Also known as:
Kalmakarah Cave
Kalmakareh Cave is located 20km southwest of Pol Dokhtar in the western province of Lorestan. It is situated in a historical and ancient valley known as Darreh Bagh on the heights of Kouh Mahalleh.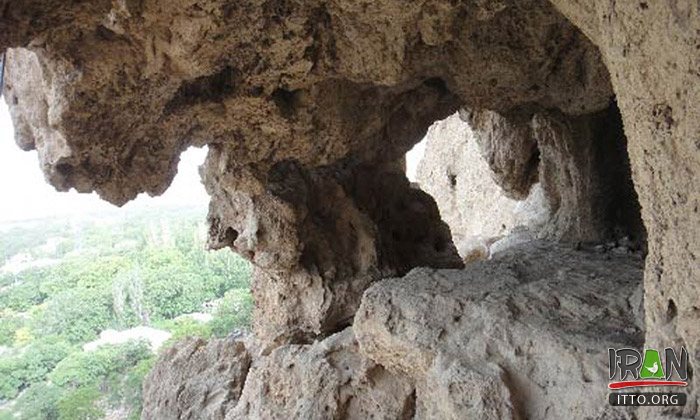 Kalmakareh Cave is located 20 km. south west of Pol-e-Dokhtar. The said cave is valuable, both as a natural phenomenon and from the cultural aspect. This cave is situated in a historical and ancient region, and in a valley known as Darreh Baq, in the heights of Kooh Mahaleh. Vast spaces and crevices have created a mysterious atmosphere in the cave. The cave holds great importance regarding the remnants of ancient civilizations.

At the entrance and within the cave are evidences of the presence of humans and animals of the past. Due to earth-quakes or natural erosion of the mountain, some of the so called 'halls' in this caved have been blocked.

The heights of the Kooh Mahaleh are in a triangular shape, with the two rivers of Seimareh and Kashkan running on either sides. This brings into focus as to why this area was favored by man in the pre-historic and historic ages, specially during the Elamite, Parthian and Sassanian periods. Vestiges such as earthenware, large pots covered with limestone residue, can be noted within the cave, as well as the hillocks surrounding it.

This cave does not seem to have been permanently inhabited, but was a good hiding place or refuge at the time of attacks and war for the inhabitants of 'Kooh Mahaleh'. There is also a possibility that the cave was used as a shelter by out-laws and revolutionaries in the past.

Some of the silver relics found in the cave, including wild animal figures, silver jugs, rhytons, gold and silver coins are kept at Falak-ol-Aflak Museum in Khorramabad.

Also, some of the cave's objects are kept at Tehran's National Museum of Iran, and the museums of Tabriz and Ilam.
In addition, Persian Griffin Cup, which dates back to Achaemenid Era, was found in Kalmakareh Cave.

Many of the historical and precious objects discovered in Kalmakareh Cave in 1989, which have been referred to as one of the six global treasures, are today in French, German and Japanese museums.

Many of the objects taken abroad have been displayed in the museums of New York, Los Angeles, London and Vienna. The artistic relics of Kalmakareh Cave are valuable not only because of their exquisite design and production, but also as precious specimens of Iran's cultural heritage and their repatriation from foreign museums should be pursued. Ponds filled with water and holes where objects d'art were hidden are among unique characteristics of the ancient cave.
Fullscreen Map