Also known as:
Ali Qapoo Edifice
,
Alighapoo
,
Aliqapou
,
Kakh-e Ali Qapu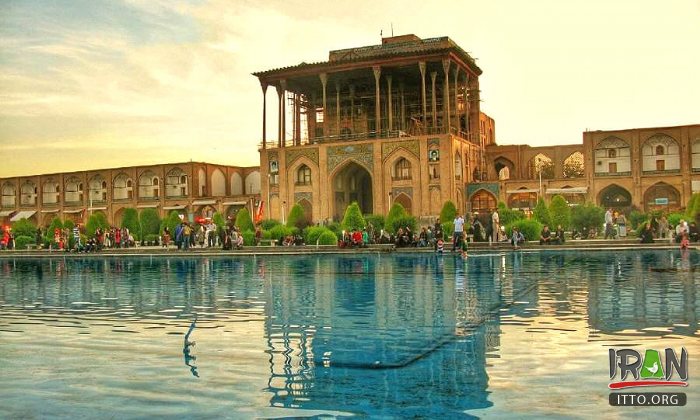 Alighapoo palace (Aliqapou Edifice) was also called 'Daulat Khaneh-e-Mobarakeh Nagsh-e-Jahan' and the 'Daulat Khaneh Palace'. Its unique archaic architecture is related to the Safavid era. This edifice was constructed under the orders of Shah Abbas I. The monarch would receive special envoys in this palace and hold his audience here. Valuable miniature paintings, the works of the reputed artist of the times Reza Abbassi, and other traditional works of art can be noted here.

Plasterwork of the 'sound room' was modeled such that the acoustic affect produced natural and pleasant sounds. The sovereign and his guests would be spectators to polo, illuminations, fire-works and the dramatics that took place in the Nagsh-e-Jahan Square from the halls of this elegant palace.

Shah Abbas II was enthusiastic about the embellishment and perfection of Ali Qapu. His chief contribution was given to the magnificent hall, the constructures on the third floor. The 18 columns of the hall are covered with mirrors and its ceiling is decorated with great paintings.

The chancellery was stationed on the first floor. On the sixth, the royal reception and banquets were held. The largest rooms are found on this floor. The stucco decoration of the banquet hall abounds in motif of various vessels and cups. The sixth floor was popularly called the Music Hall. Here various ensembles performed music and sang songs.

From the upper galleries, the Safavid ruler watched Chowgan (polo), maneuvers and the horse-racing opposite the square of Naqsh e Jahan.

The palace is depicted on the reverse of the Iranian 20,000 rials banknote. Actually, the palace is depicted on the reverse of the Iranian 20 rials banknote series 1953.
Fullscreen Map