Also known as:
Black Bridge
,
Pol Siah
,
Victory Bridge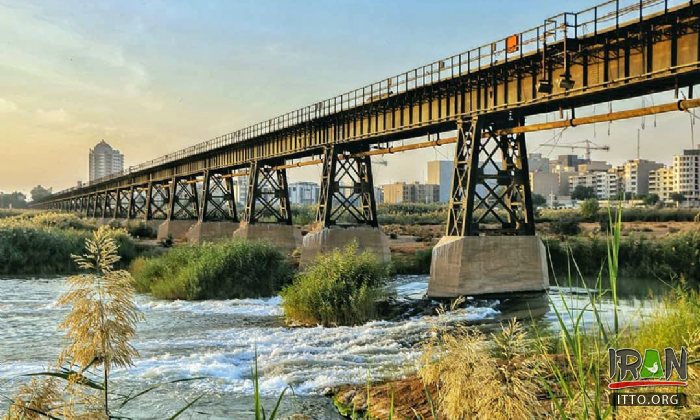 The Black Bridge or Pol-e-Siah (Also known as Victory Bridge) is a bridge with a railway line for trains and pedestrian routes which was constructed in 1929 in the city of Ahvaz in Khuzestan Province. This bridge connects the railway port of Imam Khomeini, in the south of Khuzestan province and on the shores of the Persian Gulf, to the Khorramshahr-Tehran-North railway. Also, it is a national heritage site and one of the historical and tourist monuments of Ahvaz.

It dates back to 1929. A while before the extension of the second world war flames to all fragile world of that time. Black Bridge was built under the request of the south shipping company of Iran, in the Time of the Rezashah Pahlavi, and it was considered alongside the developing plans of modernization of Iran. It was a great success because it was very strong and persistent and had a full design structure. Even these days Black Bridge is still being used without observing any reduction in performance. But shortly after the initiation of that cursed war, it was captured by Britain and soon they realized that through this dark-colored bridge, they can help the USSR army by sending them food and ammunition using Iran railways and make victory in the Second World War. They won the war and thought they named this bridge "The Victory Bridge".

It is called the Black Bridge, because of its first color which is Metallic Black. The bridge is basically built on the ruined structure of an old bridge, built in the Sasanid era, called: "Shadorvan Bridge". you may still see the stone base of that very ancient bridge below the current bridge.

The Black bridge with 1050 meters length and 6 meters width was built Karoon River at the same time with constructing cross-country railway in Iran. There are two lines for crossing train on this bridge and beside each rail, there are some pavements with one meter width.
Fullscreen Map