Also known as:
Bagh-e Namir
,
Sadri Garden
,
Namir Garden
The historical Namir garden in Taft (Yazd province), also known as Sadri, is built in the old style of Persian gardens and architecture and is one of the prime samples of the Persian garden.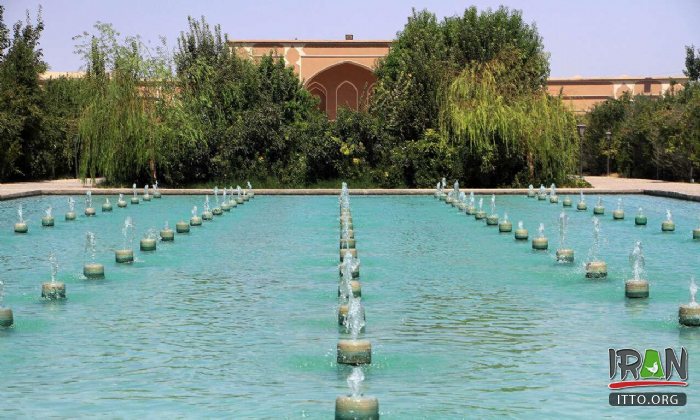 Sadri Garden (also known as Namir Garden) is one of the tourist attractions of Taft which is a town near the UNESCO World Heritage Site of Yazd. This beautiful garden is more than 400 years old and its construction dates back to Zandieh era. About 40 years ago the garden was renovated.

Locals call this garden as Namir Tafti Garden since Arbab Namir Tafti once lived here. He was a famous Zoroastrian and also a well-known orthopedist in Yazd.

This garden has a set of tall Badgir (windcatcher). These Badgirs have beautiful inner stucco in the shape of a cedar. A lovely pool with the area of 500 meters square in the middle, like a true Persian garden. But here is the best part, inside this pool, there are more than 75 fountains that fill the space with the soothing sound of water purring. At the end of the garden, you can also find a watermill.

Architectural spaces of the garden are divided into several parts that include: pavilion (Zemestan Khaneh), caravanserai (including mill, water reservoir and commercial spaces), houses around the garden and the mansion (summer residence). here include: Brick decorations which are in combination with plaster of clay and straw and stone, the wall and floor wooden decorations as well as delicate plaster decorations seen prominently in orthodox works of the entrance vestibule ceiling and in wind catcher decorations and finally in the pavilion stuccos.

Bagh-e Namir has several rows of different trees mostly consisted of willows, pomegranate, mulberry, pine and cedar creating a lush green space. Fructiferous trees of the garden include grape and pomegranate planted inside Karts. These trees have been replaced gradually and there is an ongoing endeavor to substitute old trees.
Fullscreen Map