Also known as:
Bot-e Gouran Temple
,
Indians Temple in Bandar Abbas
,
Indian Temple
,
Bot Guran Temple
The temples of India have always attracted many tourists. Without a doubt, visiting one of these temples can be enjoyable for you but you don't need to go to India for seeing these temples, you can visit a historic temple with Indian architecture by traveling to Bandar Abbas.
Hindu Temple is one of the remarkable historical monuments in Bandar Abbas which is located on Imam Khomeini Street, across from the marketplace. The building was constructed in 1310 AH (1892 AD) during the reign of Mohammad Hassan Khan Sa'd-ol-Malek, the then ruler of Bandar Abbas, through the offers of Hindus collected by Indian merchants.
The building of this temple is mainly a central square room on which there is a dome. The architectural style of this dome distinguishes it not only from the buildings of Persian Gulf seaboards but also from the whole Iran. The design of this monument is completely inspired by Indian architecture.
The great similarity of this temple to the Hindu temple is not accidental because it has made by one of India's richest people, Shikarpur. unfortunately, when he wanted to leave Iran, he took all the idols from temple to India.
The magnificent architectural style of Indians temple in Bandar Abbas and also the material that had used for building this temple makes it different from other buildings in Iran. The main building has 72 The turret on its dome that make it closer to Indian Architecture. it should be noted that the dome of this temple is one of the most beautiful domes in Iran.
Inside this temple and its interior is also very beautiful and spectacular. Its main room is quadrangle shape and It has beautiful frames. There are 4 corridors all around the temple. In the past, Indians came here for praying from these corridors.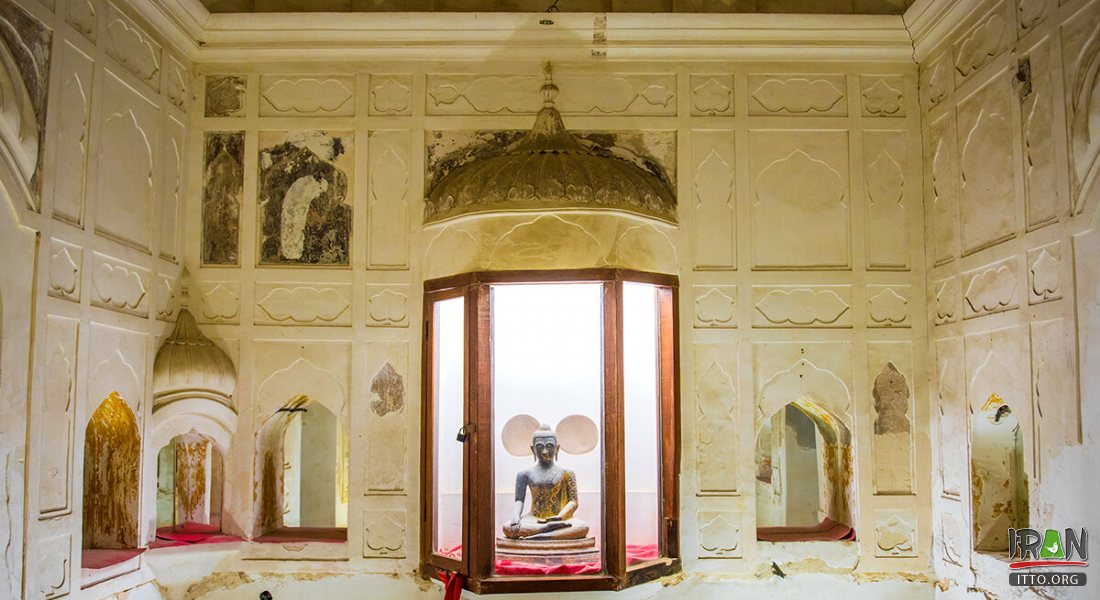 The Hindu Temple is a historic monument with a unique, singular architecture in Iran which symbolizes the cultural symbiosis of the people of Iran and India.
There is also a large hall on the eastern side of the dome, which is the Hall of Community between people. also there are various paintings in this hall that each of them represents a particular philosophy of different beliefs of Indians.
On the inner walls of Indians Temple in Bandar Abbas you can find beautiful paintings although over time, some of them have been destroyed and need to be restored. In one of the rooms of this temple a painting of "Krishna" (Hindu flautist god) has been found at restoration time.