Also known as:
Masjid Jamkaran
,
Masjed-e Jamkaran
,
Jamkaraan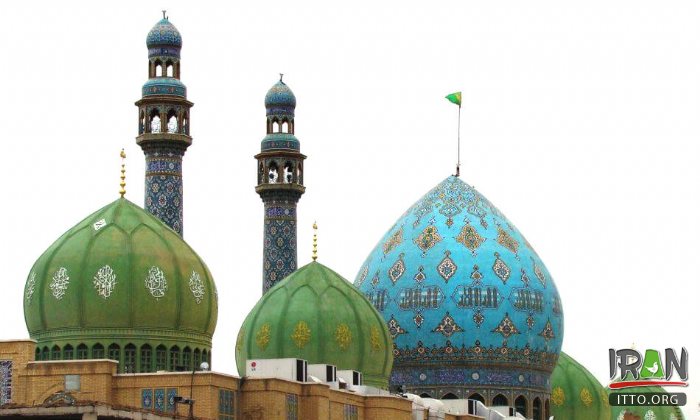 Jamakaran mosque (Masjed-e Jamkaran) is located at a distance of 6 km. from the city of Qom, on the Qom - Kashan Road. The same receives pilgrims both nationally and internationally.

Regarding the date of this mosque, there is a narration, according to which on a Tuesday eve, on 17th of Ramadan (the holy month of fasting) of the year 393, a group of people assemble at the residence of 'Sheikh Hassan Ebne Mosleh Jamkarani', and ask the Sheikh to abide the command of Hazrat Mahdi (AS) (the 12th Imam or Redeemer, as believed by the Shiite sect), and told him that he was called by the Imam.

People accompanied the Sheikh to the vicinity of the present Jamkaran mosque. On his arrival Sheikh saw a young man of about 30 years of age sitting on a carpeted seat, leaning against cushions, and a sage known as Hazrat Khezr (AS) was next to him. Hazrat Mahdi (AS) addressed the Sheikh by name, and asked him to go to Hassan Moslem which had a land under cultivation, and tell him that this land was sacred and there should be no more farming performed there. The Sheikh asked the Imam to give him a sign so that people would believe him.

Hazrat Mahdi (AS) asked him to complete his mission while the appropriate signs would be granted in time. He further commanded to ask people to convey prayers there as the prayers recited in this vicinity are equivalent to that performed in Mecca or the Kaba. Thus the holy mosque of Sahebol Zaman was founded in Jamkaran, and today is one of the extremely unique and interesting sites of Qom province, drawing hordes of pilgrims specially on auspicious dates.
Fullscreen Map