Also known as:
Mostowfi House
,
Mostoufi Edifice
,
Mostofi Restaurant
,
Mostofi Museum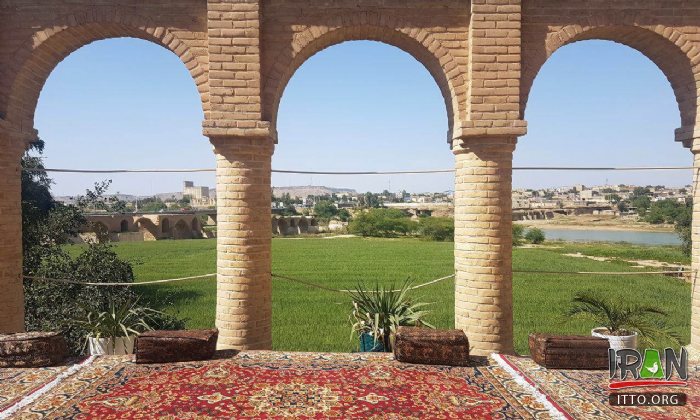 This edifice is related to the late Qajar period. From its garden the Shateit River and its surroundings can be observed. The walls and ceilings of this house have been decorated by brick work. Its large shabestan (nocturnal praying area) has fine and beautiful brick made pillars.

The other places in the complex are museum, restaurant, gallery of handicrafts and photography studio. Mostowfi house now is used as the Information Department of Iranian Cultural Heritage, Handicrafts and Tourism Organization. Mostowfi house is confirmed as the official center of UNESCO in Khouzestan Province.

Mostowfi house (Mostufi Edifice) is divided into two sections as Zenana and Biruni with a view to Shadorwan weir-dam and the Shatit River, a branch from the Karun River.

Biruni section contains doorways, corridors and rooms around and vestibule. Zenana section contains central courtyard, alcove, porch, reception rooms in summer and winter classifications and windcatchers. The structure's material includes clay, brick and stucco.

The main doorway located in the west side of the complex reaches to the central courtyard through a narrow corridor with two rooms. The central courtyard is square-shaped and covered by the rectangular bricks. There is an octagonal pool in the eastern side of the mansion. On this axis there is a pavilion and a rounded pool smaller than the other, pavilion is decorated by the techniques of Karbandi and Rasmibandi.

Beside the eastern side of the mansion there's a wide flat porch. The porch has been built on two octagonal columns, two half-columns and three barrel vaults. Some sections near the porch are divided into two stories. On the canopy, the porch encompasses three large windcatchers. The collateral windcatchers are octagonal and the middle one is quadrilateral. Central wind tower ventilates the porch and the others ventilates subcellar.

The northern side of mansion surrounds a flat with a meter in height and eight meters in width. It operates as a corridor to link northwestern and southwestern parts to each other. The flat is established on nine rounded brick columns.
Fullscreen Map