Also known as:
Tappe-ye Sialk
,
Sialk Hill
A joint study between Iran's Cultural Heritage Organization, the Louvre, and the Institut Francais de Recherche en Iran also verifies the oldest settlements in SialkHills to date to around 6000-5500 BC.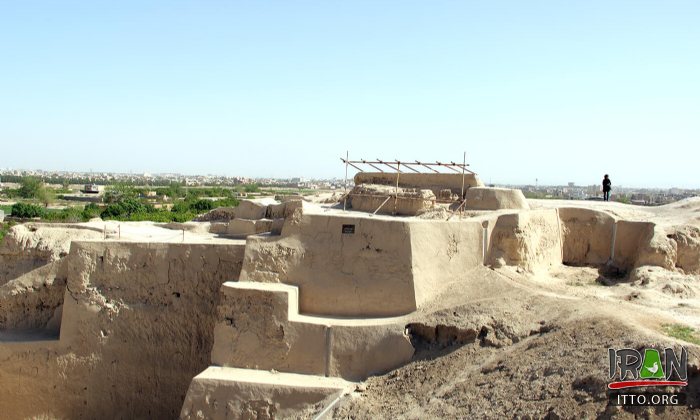 Approximately 6500-5500 years BC, a community with an interesting civilization was settled in this area and their tools were of stone and bone. There is a possibility that the former residents of this region had succumbed to their successors. Here, Elamite slabs of clay have been found, and due to the links of this community with that of the civilization of Shoosh (Susa), about 5,500 years ago, they learned to write.

Thereby, several clay slabs with the most ancient Elamite script are vestiges of this area. Evidences found in the cemetery between the two hillocks are related to the fresh immigrants to the Sialk Hill, which bears a strong resemblance to the discoveries in the Giyan Hillock of Nahavand and Khordin of Savoj Bollaq.

Sialk, and the entire area around it, is thought to have originated as a result of the pristine large water sources nearby that still run today. The Cheshmeh ye Soleiman ("Solomon's Spring") has been bringing water to this area from nearby mountains for thousands of years. The Fin garden, built in its present form in the 17th century, is a popular tourist attraction. It is here that the kings of the Safavid dynasty would spend their vacations away from their capital cities. It is also here that Piruz Nahavandi (Abu-Lu'lu'ah), the Persian assassin of Caliph Umar, is buried. All these remains are located in the same location where Sialk is.

After an abandonment of more than a millennium, the Sialk site is reoccupied in the second half of the second millennium. This last phase of occupation of the site is divided into two periods: Sialk V and Sialk VI. The archaeological material of these two levels has been mostly found in the two necropolises, called necropolis A and necropolis B.

The first represents the Sialk V level. Here are found weapons and other objects in bronze, as well as jewelry, and some iron items. The ceramic is gray-black, or red, sometimes with some decorations that consist of geometric patterns, and can be compared to items coming from the sites in Gorgan valley (the later levels of Tureng Tepe, and Tepe Hissar).
Fullscreen Map