Also known as:
Kaakh'e Golestan (Farsi)
,
Golestaan Palace
One of the oldest historic monuments in the city of Tehran, and of world heritage status belongs to a group of royal buildings that were once enclosed within the mud-thatched walls of Tehran's arg (citadel). It consists of gardens, royal buildings, and collections of Iranian crafts and European presents from the 18th and 19th centuries.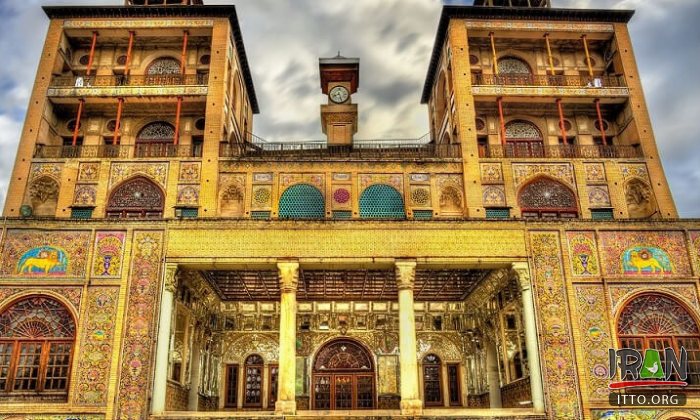 Golestan Palace was constructed in the year 1268 AH. under the order of Naseredin Shah. This palace is comprised of the entrance along with various pavillions, such as mirror, diamonds, ivory and crystal pavillions as well as Salam pavillion in which the famous 'Takht-e-Tavoos' or 'the Peacock Throne' that Nader Shah took as ransom from India in his conquest in 1739, is placed. This throne has seven jewelled stands with two steps. On its back there is a statue of a dragon. It has a delicate back seat which is ornamented by beautiful inscriptions.

The lavish Golestan Palace is a masterpiece of the Qajar era, embodying the successful integration of earlier Persian crafts and architecture with Western influences. The walled Palace, one of the oldest groups of buildings in Teheran, became the seat of government of the Qajar family, which came into power in 1779 and made Teheran the capital of the country. Built around a garden featuring pools as well as planted areas, the Palace's most characteristic features and rich ornaments date from the 19th century. It became a centre of Qajari arts and architecture of which it is an outstanding example and has remained a source of inspiration for Iranian artists and architects to this day. It represents a new style incorporating traditional Persian arts and crafts and elements of 18th century architecture and technology.

During the Pahlavi era (1925-1979) Golestan Palace was used for formal royal receptions and the Pahlavi dynasty built their own palace at Niavaran. The most important ceremonies held in the Palace during the Pahlavi era were the coronation of Reza Khan (r. 1925-1941) in Takht-i Marmar and the coronation of Mohammad Reza Pahlavi (r. 1941-deposed 1979) in the Museum Hall.

In its present state, Golestan Palace is the result of roughly 400 years construction and renovations. The buildings at the contemporary location each have a unique history.
On October 11, 2005 the Cultural Heritage Organization of Iran submitted the palace to the UNESCO for inclusion into the World Heritage List in 2007.


 
Fullscreen Map