Darband formerly a village close to Tajrish, Shemiranat, is a neighborhood inside Tehran's metropolitan limits. It is the beginning of a popular hiking trail into Mount Tochal, which towers over Tehran. A chairlift is also available for those not interested in hiking.
The Persian term darband translates to "door of the mountain" (band, a variation of vand and fand, meaning "mountain"). The initial start of the trail at Darband is about 250 metres long and is dotted with a number of small cafes and restaurants. These are quite popular and are busy in the evenings, as locals and tourists alike visit the many hooka lounges along the trail.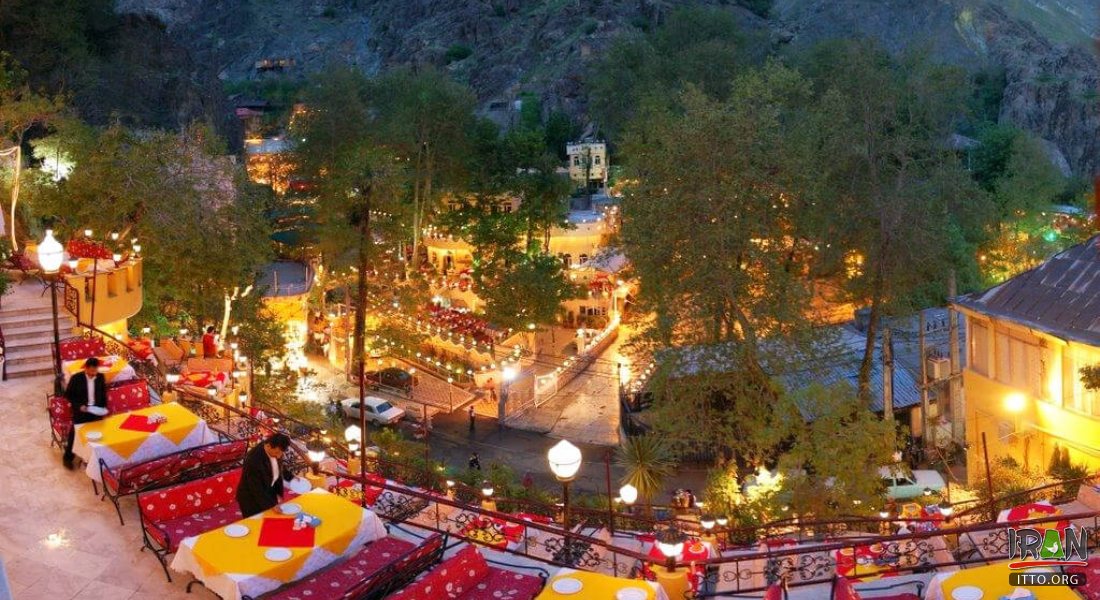 formerly a village close to Tajrish, Shemiran, is a neighborhood inside Tehran's metropolitan limits.
The Zahir-od-dowleh cemetery, where many Iranian giants of art and culture such as Iraj Mirza, Forough Farrokhzad, Mohammad-Taqi Bahar, Abolhasan Saba, Ruhollah Khaleqi, Rahi Mo'ayyeri and Darvish Khan are buried, is also located in Darband.
Three kilometres uphill from Tajrish Sq, the road ends, becoming a path winding up a narrow rocky valley, with water cascading down the slope. The trail heads up into the hills past a picturesque succession of teahouses, restaurants and fruit-conserve stalls: it's one of the most relaxing places in Tehran to kick back with tea and a qalyan, with a mountain-village feel.
A visit to Darband can easily be combined with Sa'd Abad: exit the palace complex via the top entrance and keep going up the hill.
One of the most attractive parts of Darband is the 3 meters Statue of a climber. This statue was built in memory of an officer who saved some foreign climbers who their plane crashed to northern Mountains of Tehran about 50 years ago. A German paratrooper was sent to save them but he stuck also to the rocks and then Sergeant Amir Shahghadami was chosen to save this group. He bravely rescued the entire group, receiving a medal of courage from US President John Kennedy and being honored by the Iranian government at that time, due to gratitude of his brave operation, his statue was built in the middle of the Square in that region.
Overall, Darband is a must-visit destination for anyone traveling to Tehran, offering a unique blend of natural beauty, culture, and cuisine. Its hiking trails, traditional restaurants, and tea houses make it a perfect escape from the hustle and bustle of the city, and a great place to unwind and enjoy the simple pleasures of life.