Also known as:
Narenjestan Museum
,
Narenjestan Garden
,
Qavam House
,
Ghavam Museum
Narenjestan-e Qavam Garden or the Qavam House is a historic house and museum in Shiraz. The magnificent mansion is an architectural marvel from the Qajar era and is located within a 3,500 square-meter garden.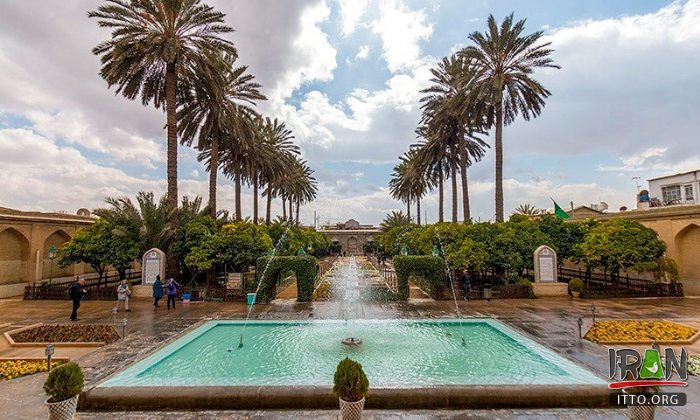 Narenjestan or Qavam Garden of Shiraz dates back to Qajar era and is located on the eastern side of the end of Lotfali Khan Zand Avenue. Due to abundance of sour orange  trees it is called Narenjestan. Narenjestan building has been a place where ordinary people went for administrative purposes and public meetings as well as meetings among Qajar dignitaries and nobles were held there.

Construction of the building started by Ali Mohammad Khan Qavam-ol-Molk in 1257-1267 AH and was completed by Mirza Mohammad Reza Khan, grandson of the first Qavam-ol-Molk and grandfather of Qavam in about 1300 AH. The building has been rehabilitated once by Ebrahim Qavam and has been decorated with mirrors, paintings, tilework, plaster work, and inlay. It is an architectural feat of Qajar period.

Narenjestan building has been constructed by artisans of Shiraz over 3,500 square meters of land with total foundation area of 940 square meters in two northern and southern wings. The southern wing was special to servants and included two porticos with inlaid wooden columns and rooms decorated with beautiful plaster work.

The northern wing has two stories and includes a portico with two stone columns flanked by inlaid doors and windows and including a wooden roof with mirror work along with paintings and is among architectural feats of Qajar era. Mirror hall is in the middle and surrounded by rooms on right and left in a symmetrical way. Floor of porticos are covered with white and blue tiles in a beautiful manner and attractive plaster work has covered walls of the porticos.

The building stands two meters above the yard and is mainly made of bricks. Its ceiling is covered with beautiful paintings in warm colors and varied patterns. Outside the building you can see bas-reliefs of Achaemenid soldiers, lions, tombs, and pictures of fighting mythological creatures which have been inspired by carvings at Persepolis. A stone pool in addition to date and sour orange trees are facing the building. Ebrahim Khan Qavam-ol-Molk dedicated this beautiful building to University of Shiraz in 1966. It is now Narenjestan Museum which is affiliated to Faculty of Architecture of the same university.
Fullscreen Map