Also known as:
Takht-e Soleyman
,
Azar Goshnasp Fire Temple
,
Prison of Solomon
,
Takhti Soleyman
,
the Throne of Solomon
The aggregate of the Takht-e-Soleiman monument (Takht-e-Soleyman or Azar Goshnasp Fire Temple) is placed on a natural high land, about 20 m. above the surrounding plain. Takht'e Soleyman means "the Throne of Solomon" in Persian.
The fortified site, which is located on a hill created by the outflow of a calcium-rich spring pond, was recognized as a World Heritage Site in July 2003. The citadel includes the remains of a Zoroastrian fire temple built during the Sassanid period and partially rebuilt (as a mosque) during the Ilkhanid period.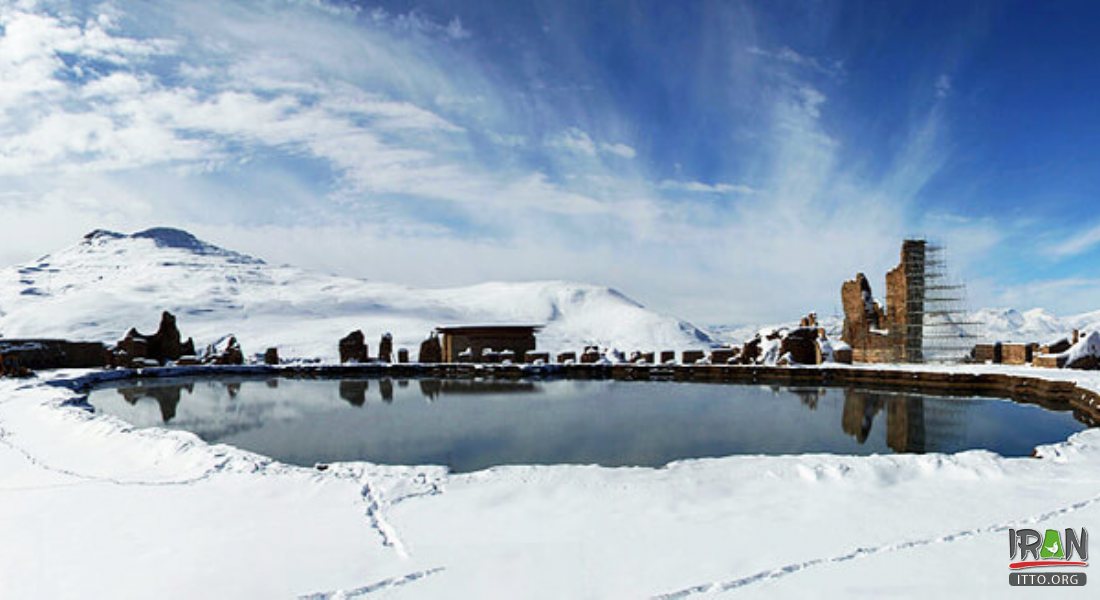 The site includes the principal Zoroastrian sanctuary partly rebuilt in the Ilkhanid (Mongol) period (13th century) as well as a temple of the Sasanian period (6th and 7th centuries) dedicated to Anahita.
This temple housed one of the three "Great Fires" or "Royal Fires" that Sassanid rulers humbled themselves before in order to ascend the throne. The fire at Takht-i Soleiman was called ādur Wishnāsp and was dedicated to the arteshtar or warrior class of the Sasanid.
All the structural relics have been constructed within an oval shaped rampart. The exterior rampart with 5 m. thickness, 14 m. height and outer circumference of 1,200 m. has 38 conical defense towers. The outer wall is a remnant from the Sassanian period. During the Ilkhanan reign, a new gateway had been constructed adjoined with the former southern gateway. Within the oval rampart there are two square plots, with uniaxis and different centers.
In the centers of the southern square there is a lake and the northern square an ancient fire-temple respectively. Eivan-e-Khosrow is placed to the north western direction of the lake and to its southern side is Eivan-e-Garabaq-e-Khosrow.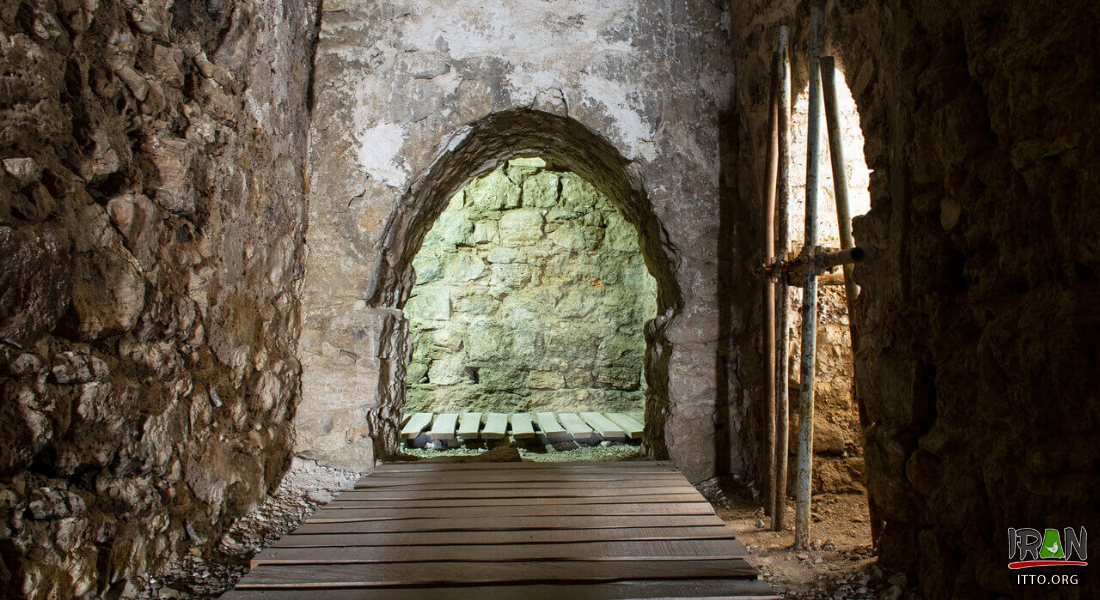 Takht-e Soleyman "The Throne of Solomon" is the holiest shrine of Zoroastrianism and the former Sassanid Empire.
Takht-e-Soleiman was destroyed during the Roman conquest in 624 AD. In archeological surveys around the area of the fire-temple a variety of coins, tiles and a huge copper cooking vessel (a remnant of the Islamic period), have been discovered.
This site got its biblical name after the Arab conquest. Folk legend relates that King Solomon used to imprison monsters inside a nearby 100 m deep crater which is called Zendan-e Soleyman "Prison of Solomon". Solomon is also said to have created the flowing pond in the fortress.
The Soleiman prison which consists of the remnants of a pre-historic and the Medes temple is included in this aggregate. Sites such as dormant volcanoes, thermal springs and streams around Takht-e-Soleiman are worth surveying.