Also known as:
Bibi Shahr Banoo Tomb
,
Mausoleum of Bibi Shahr Bano
,
Wife of Husayn ibn Ali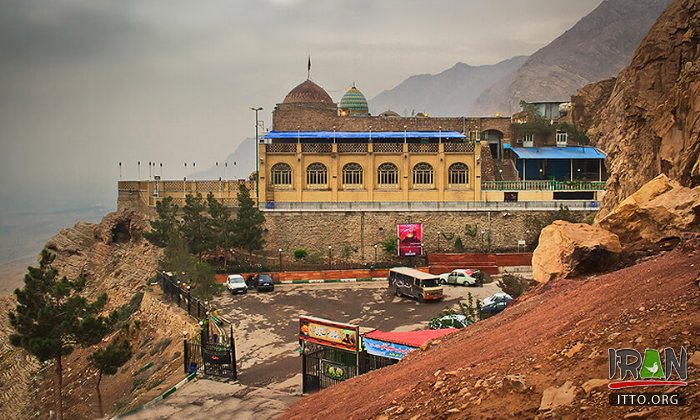 This enameled or glazed dome was the resting place of the mother of Hazrat Sajad (AS) the daughter of Yazdgerd Sassani III the last Sassanid emperor of Persia. It is located in the southern skirts of the Ray mountains, reputedly known as the mountain of Bibi Shahr Banoo. This dome is 33m. high and 22m. in width and is surrounded by stone walls. The dome is a remnant from the Daylamite period.

Shahrbanu (Shehr Banoo) was allegedly one of the wives of Husayn ibn Ali, grandson of the Prophet Muhammad and the third Twelver Shia Imam, as well as the mother of his successor, Ali ibn Husayn. Shahrbanu has also been referred to with several other names by different writers, such as: Shaharbanawayh, Shahzanan, Shahjahan, Jahanshah, Salaama,] Salafa, Ghazaala, and Sadira.

Islamic legends state that Shahrbanu was captured during the Muslim conquest of Persia. When presented before the Arab nobility and offered a choice in husband, she requested to be given in marriage to Imam Husayn. The majority of Shia sources state that Shahrbanu subsequently died shortly after giving birth to her son, Ali and was buried in the Jannat al-Baqi, alongside other members of Muhammad's family. Some traditions however, indicate to the Bibi Shahr Banu Shrine in Rey being her resting place.

Shahrbanu is viewed as a saintly figure by both the Shia and Sunni denominations and is especially revered in Iran, her importance being partly tied to the link she provides between pre-Islamic Persia and modern Shi'ism. However, her historicity is uncertain. Islamic writers, such as al-Mubarrad, Ya'qubi and al-Kulayni began alluding to Shahrbanu and her imperial Persian background from the 9th century onward. However, the earliest sources make no mention of the mother of Ali ibn Husayn, nor do they ascribe him with maternal royal ancestry. The first references were from Ibn Sa'd and Ibn Qutaybah, also in the 9th century, who instead describe her as being a slave from Sindh. The Encyclopædia Iranica surmises that Shahrbanu was "undeniably legendary".
Fullscreen Map