Also known as:
Baagh-e Sangi
,
Dervish Khan Stone Garden
,
Baq Sangi-e Darvish-Khan
In the middle of nowhere near Sirjan, surrounded by only a few sheep lies this incredible garden of stone trees. Hundreds of tall dry trees stretch across the sand, each with stones small and large (some weighing over 20 pounds) hanging from the branches. It's a man-made heaven for weird-seekers.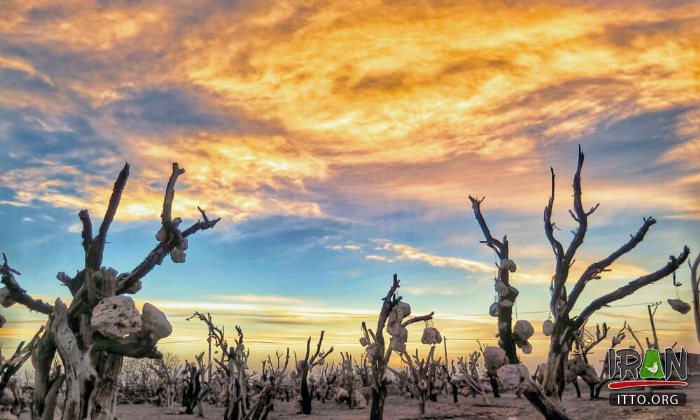 Darvish Khan's Stone Garden (Baq Sangi) is located at a distance of 40km from Sirjan and is in the Bulurd Village. There's also a remarkable story behind the garden.

It was created by a hearing-impaired and mute landowner named Darvish Khan Esfandiyarpour. Starting in 1961, he hung each of the stones from thick wires and large ropes on the dying limbs. It was a silent protest against the land reform plans implemented by the Mohammad Reza Shah (Pahlavi) regime that caused the man to lose part of his land, including his real garden. The garden took on a new meaning over the years, with a new tree added for each significant event in the man's life.

Darvish Khan Esfandiyarpour passed away in 2007 at the age of 90, and was buried in his rocky garden. Although he is no longer there to tell the story behind his symbolic stones, the sight is still worth the trip. Only around 6,000 people visit the site each year, so chances are good you'll be by yourself—accompanied by just the stones and sheep.

 
Fullscreen Map