The mausoleum of Own-ibn-e Ali & Zeid ibn-e Ali (The grave of oun ibn Ali and Zeyd ibn Ali, Einali & Zeinali) is on the Zaynal Mountain of Tabriz and the architecture is on the Ilkhani lines (Ilkhanate). Some historians believe the shrine belongs to two Muslim clerics. Others believe the building originally was a Zoroasterian temple and the shrine's Islamic name was just a cover to protect the structure from destruction during the Muslim invasion.
This is the remnant of the 9th and 10th centuries AH. This mausoleum is the burial site of two sons of Hazrat Ali (PBUH), who were martyred in Tabriz in (22 AH). People are so interested in the Eynali that they believe its peak (1800 m) is the closest place to the sky to pray.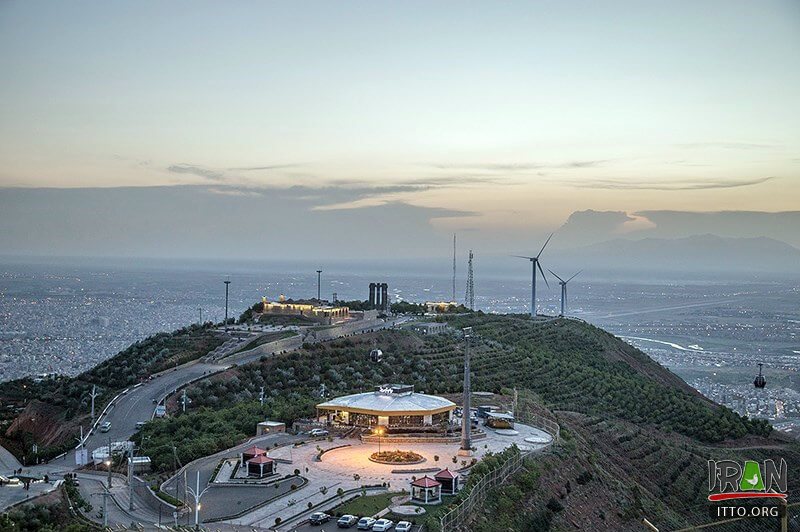 On ibn Ali's shrine is a shrine over Eynali mountain to north of Tabriz, East Azerbaijan Province.
There is also Memorial Tower of Anonymous martyr near this mausoleum. This tower constructed in Azari style that is a part of Islamic architectural style; also the poetry of Mohammad-Hossein Shahriar, Iranian poet, is written on it.
Eynali Mountain range is located in Tabriz, East Azerbaijan Province, northwest of Iran. Not only Eynali is considered as a recreation area for people in the weekend, but also it is a proper area for mountaineering buffs.