The role of bazaars in Iranian cities is very important; Isfahan is a historical city that has a particular role in Iran's history, whose bazaar was formed over the centuries. The study of the Isfahan bazaar can show all structural principles of historical Iranian bazaars. It reveals a bazaar's role as an institutor and integration factor in the different periods of Iranian history.
Isfahan bazaar is a relic of the Safavid era and prolongs from the Qasariyeh facade to the Jame' Mosque. During the Safavid era this bazaar was one of the main luxurious trading centers in the region. It was built in 1620 in the middle of the Naqsh-e Jahan square: the second bigest square in the world. This bazaar is also known as the 'Bazaar-e-Nezamiyeh' or 'Nezam-ol-Molk'.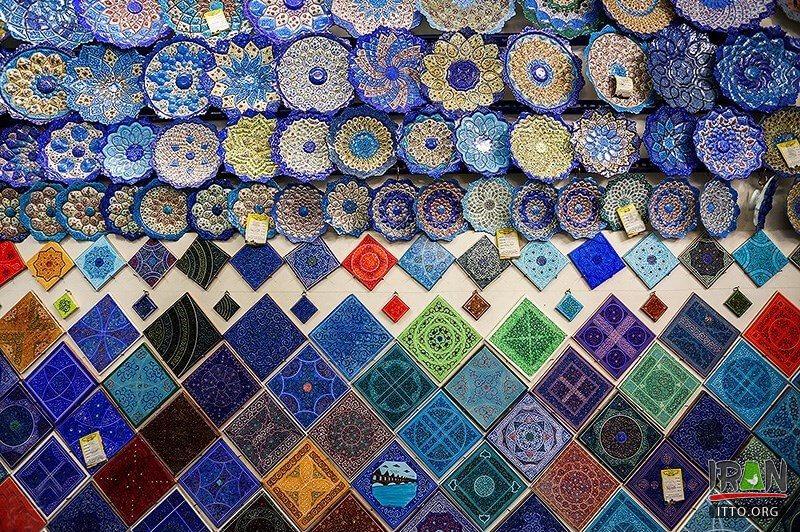 All around the Naqsh-e-Jahan square are bazaars full of Persian handicrafts.
In the Qeysarie bazaar, there are many historical buildings such as Nimavar school, Sadr school, Khayyatha mosque, No mosque, Zolfaghar mosque, Shishe mosque and Jarchi mosque. The Qeysarie gate is the main entrance of the bazaar. (The main commercial activities in the Qeysarie bazaar are carpet and kilim selling)
The traditional and historic style of this great bazaar with old shops is a place that is architecturally important. Isfahan bazaar can easily be called the most beautiful bazaar in Iran, and that is due to abundance of handicraft stores and workshops in it. You can see different kinds of handicrafts and how they are made going through the bazaar. It starts at the Naqsh-e Jahan square and ends at the Grand Mosque of Isfahan, but the more interesting parts of it lie around the Naqsh-e Jahan square which can entertain you for hours.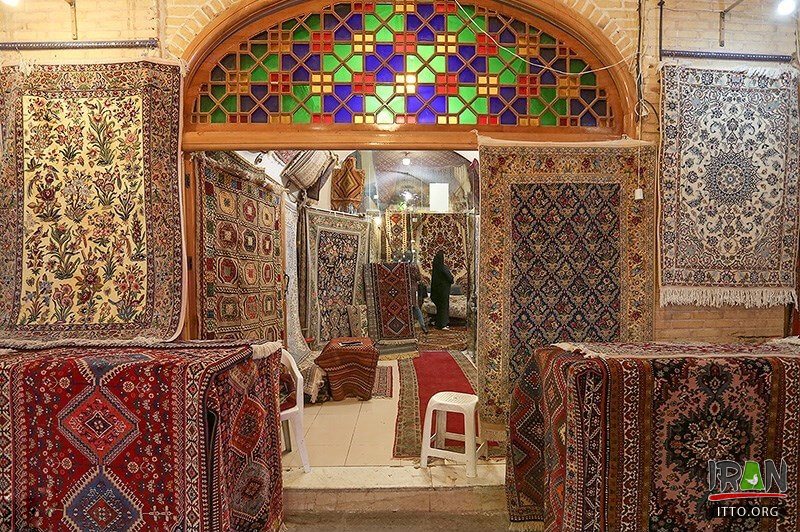 The main commercial activities in the Qeysarie bazaar (Isfahan Grand Bazaar) are carpet and kilim selling.
The shops offer everything you think: copper containers, handicrafts, clothes, fabrics, gold, food, spices, shoes, carpet, souvenirs, ornaments, and it is interesting that for each one there is a small market with dozens of shops.