Also known as:
Dandeh Kebab
,
Khoresht-e Khalal
,
Local and Regional Foods in Kermanshah
In urban and rural areas and among the tribes of Kermanshah different types of local food can be seen. Out of which we can point out Dandeh Kebab, Khoresh Khalal (Slivered Almonds & Barberry Stew), side dishes, broth and different breads, different kinds of Aash such as Aashe AbasAli and Ash vasali, Valak Polo, Koofteh Berenji, Khamkoo, Shami Kabab, Shirdaq, Shiriej, Kashkak, Halim Goosht, Qormeh, etc.
Dandeh Kebab: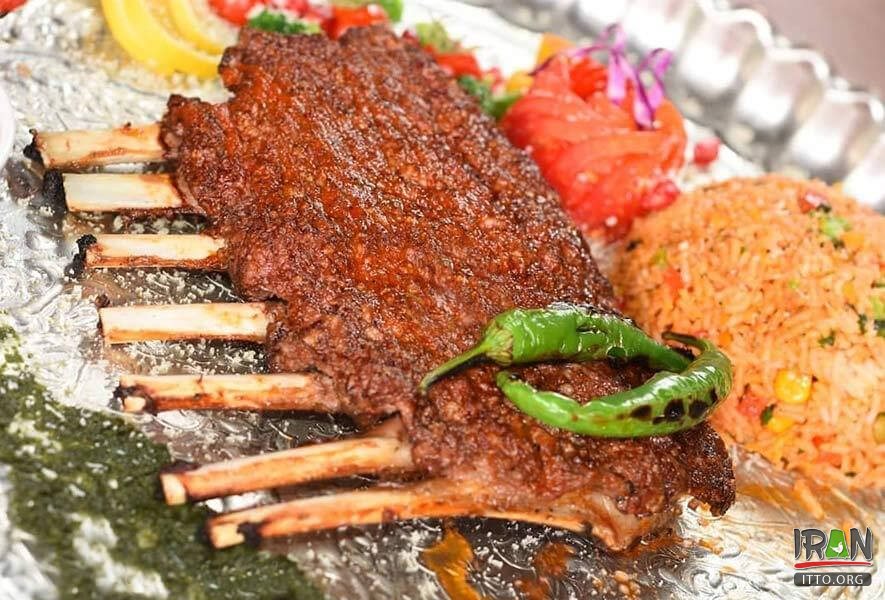 Dande Kebab (lamb ribs kebab) is one of the original, official and delicious Kebabs in Kermanshah.
Kebabs are one of the traditional Iranian foods that prepared at many formal and indigenous ceremonies. Among these delicious kebabs is a dandeh kebab which is for Kermanshah. This food is one of the most popular and favorite foods in the region. You can order this food at most Kermanshah restaurants and traditional restaurants.
Dandeh Kebab is one of the original dishes of the Iranian western province of Kermanshah, which is offered to domestic and foreign tourists around Taq-e Bostan historical cultural complex.
Kabab Dande contains a large amount of lamb ribs which is cut as wide as four Koobideh Kebabs and broiled in a certain way. Kermanshahi chefs prepare a sauce with combination of tomato paste, salt, pepper, lemon juice and saffron and pour it on kebabs repeatedly during the cooking and preparation process. After cooking the food it can be served with rice or bread decorated with onion, lemon or the sour orange.
Khoresh Khalal (Slivered  Almond  Stew):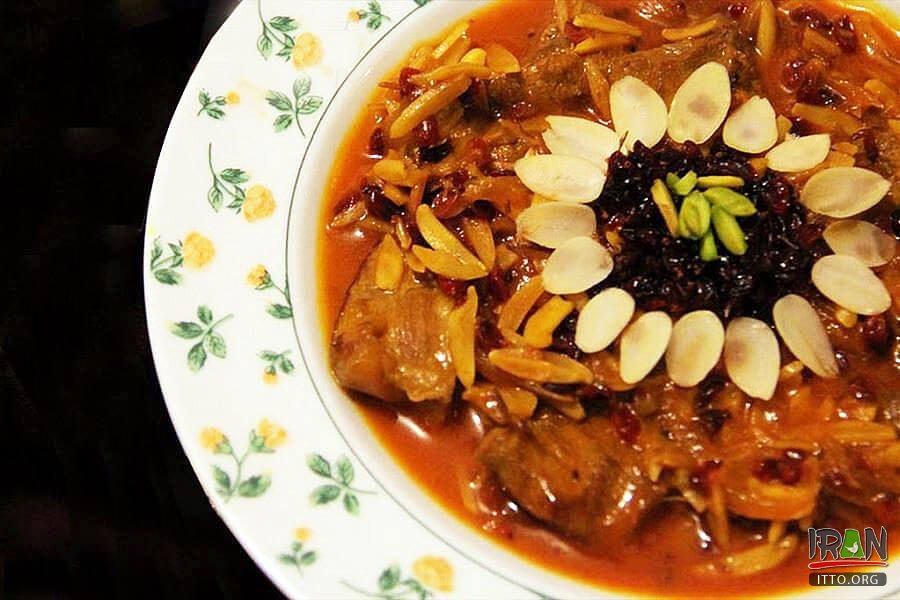 This is one of the most delicious Persian dishes, originally from Kermanshah, western Iran. It is served at formal gatherings and is a must try.
One of the original Iranian foods is Khalal, which is cooked with Almond slice. This meal is special for Kermanshah City and used for mourning ceremonies and celebrations. In Khoresh Khalal, Lamb meat is cooked with almond slice and black barberry, and a great flavor. Khoresh Khalal can also be made using Beef and Lamb meat. The ingredients of Khoresh Khalal include Meat Almond slices, Onion, Lemon Omani, Black barberry, Saffron, Salt, Pepper, Tomato paste and then served with rice, and butter.
The traditional almond stew, an extravagant and ceremonial dish form the West of Iran, contains expensive ingredients such as lamb, almond, barberries, and saffron. The modern day Gheimeh is mostly cooked with beef; almond slivers are replaced with fried potatoes; tomato paste is used in lieu of saffron to color the dish; and barberries are completely neglected. The almond stew is now a regional dish, only cooked in the city of Kermanshah and her vicinity.
Famous Kermanshah Restaurants:
Heidary Barbecue Restaurant:
Located near Taqh-Bostan, The special food serves here is Dandeh Kebab which is prepared with chest bones and chopped meat and onion and at the end rubbed with a sauce.
Jamshid Hotel & Restaurant:
Jamshid's traditional restaurant is a excellent choice for dining in Kermanshah.
Shayli Restaurant (Shaily):
One of the most popular restaurants in Kermanshah is the Shayli restaurant. Shayli is a five-star restaurant and café. So, if you're looking for a luxurious place, be sure to go to this restaurant.
Chelcheleh Restaurant:
This restaurant serves all the local foods of Kermanshah.