Also known as:
Broken Bridge
,
Shekasteh Bridge
,
Pol Eshkesteh
,
Pol-e Shekasteh
Shapuri Bridge or Broken Bridge is a historical bridge from Sassanid era located in the south of Khorramabad in Lorestan province. The bridge has 28 arches (of which only 6 remain) and 27 Pile bridges, each 61 square meters; five of its arches are intact and the others have been destroyed by natural factors.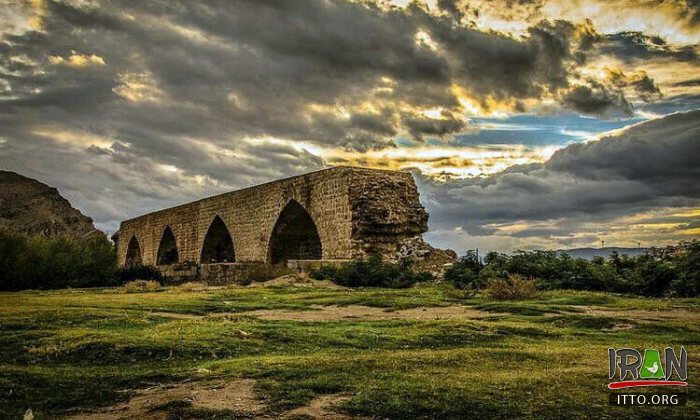 Shapuri (Shapouri) Bridge or Broken Bridge is located 2 km. south-west of Khoram Abad in Lorestan Province, and to the west of the old city of Shahpour Khast. It is one of the master-pieces of architecture in bridge construction of the Sassanian period.

The length of this bridge is estimated to be about 330 meters at the time of use and based on its remains. The bridge comprised of 28 arches of which only 6 have been remained. Each pillar is 66 m. (11x6) and its current elevation is 16 m. The arches of the said bridge has been constructed of stone, whereas the bridge itself is a mixture of stone and mortar. The Broken Bridge is considered as one of the largest stone bridges in Iran.

In the past, Broken Bridge was used as a way to cross the caravans and army that went from Susa to Hegmataneh. The Broken Bridge or Shapuri Bridge has one of the most beautiful historical landscapes in Lorestan province. This bridge is a little degraded, but it still has its beauty.
Fullscreen Map