Also known as:
Sa'at Tower
,
Meydan-e Sa'at
,
Kakh-e Shahrdari-e Tabriz
,
municipality museum of Tabriz
,
Kakh-e Shahrdari Tabriz
Tabriz clock tower also known as Tabriz Municipality Palace is the city hall and main office of the municipal government of Tabriz, East Azarbaijan Province. In recent years parts of the building is reorganized as municipality museum of Tabriz.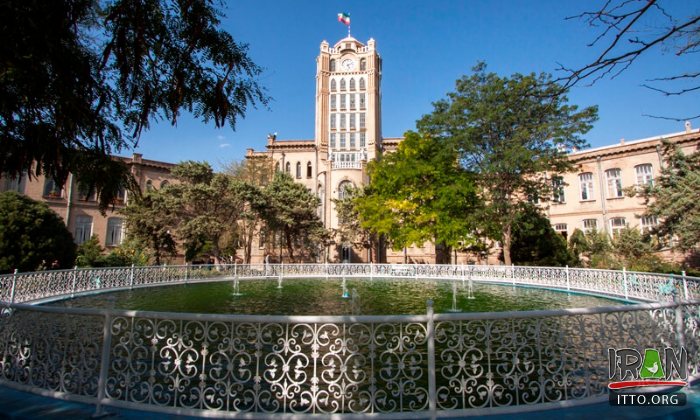 Tabriz Municipality Palace (also known as Sa'at Tower or Kakh-e Shahrdari) is located in the downtown of Tabriz in the famous Clock (Sa'at) square. This structure was constructed in the year 1933 AD. under German supervision before World War II. The stony edifice is constructed on a ruined and ancient graveyard. There is a tower with a four sided clock on this building and at present is the municipality building of Tabriz.

During the 1990s, in an attempt for installing an elevator, one of Saat's patios was damaged. The dome in top of the tower of Saat was reconstructed on 2008 with a new khaki colored fiber glass instead of the original silver colored dome. Since 2007, part of the building houses the Municipal Museum.

The museum includes historical maps of old Tabriz, photos of new establishments and major constructions works in Tabriz, and golden key of Tabriz. There are also some of early vehicles, equipment, and machinery used in the city such as: first taxi cars, and firefighting tracks and First movie projector. The major hall of this museum includes Tabriz municipality collection of Tabriz rugs.

Since Saat Tower is located in the center of the city, it has been used for various ceremonies and gatherings in the city. During 1947 it was used as the seat of the Azerbaijan Peoples' Government :

- Iranian new year, at the beginning of every new Iranian Year (20 March), a big Haft-Sin is made behind Saat.
- Earth hour, since 2014 Tabriz celebrate the earth hour by turning off the lights for Saat Tower.
Fullscreen Map