In Northeasthern Iran, Golestan Province, there is a stunning odd cemetery and tomb of Khaled Nabi (a famous pre-Islamic prophet died in the 4th century) on top of a green and lush hill.
Tomb of Khaled-e Nabi (Khaled Nabi) located in southeast of Gonbad-e Kavoos (in Golestan Province) on the top of a mountain called Kooh-e Khoda (The Mountain of God) between Kalaleh and Maraveh Tappeh. Khaled-e Nabi Tomb has a very special landscapes. Local peoples believe that one and the prophets (Khalid) buried in there and built three tombs for him two other of his followers and there are became a pilgrim place for Iranians.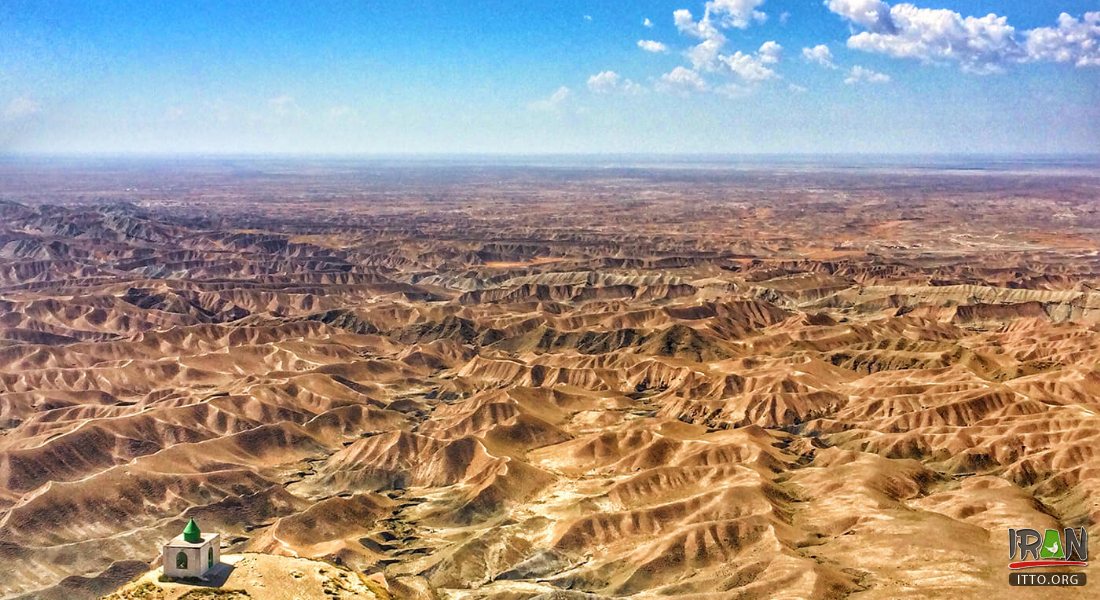 The historical site of Khalid Nabi is a complex of several pilgrimage sites and a cemetery. This complex is located in the mountainous areas of Golestan province, is a burial site for Khalid Nabi, as well as a host of small and large gravestones. All these attractions, along with the spectacular scenery of the surrounding countryside, have made this area a major tourist attraction in the north of the country.
Biography of KHALID NABI:
His full name is Khalid bin Sinan bin Ghaith. He was one of the prominent Arab writers a year before the elephant year. Khalid Nabi who is believed to have been a prophet from Yemen.  It is generally believed that Khalid Nabi was the only prophet between Jesus and Muhammad.
Khalid Nabi had two different holy stories, one is related to "the Holy fire" that no one was able to extinguish, and was a representation of fire worshiping, but Khalid Nabi did, and he entered and got out from it unharmed to eradicate the fire worshiping.The second holy story is the story of the "Holy Stone" that was believed to have an effect on two aspects of life; the first one during wars, where it was used as a charm to defeat the enemies. The second use of the stone when it was buried in the shepherding locations in order not to lose the cattleor not to lose the path; all of that as preapprehension to Islam.Otherwise it had been said that one Surat from Holy Quran was written on it (Al-Ikhlas).