Also known as:
Necropolis Shiraz
,
Naghsh-e Rostam
,
Naqsh Rustam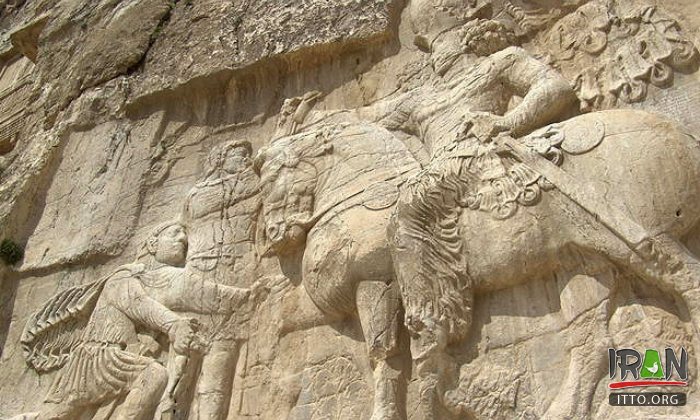 Naqsh-e Rustam (meaning Throne of Rustam) is located approximately 5 km (3 miles) to the northwest of Persepolis, the capital of the former Achaemenid (Persian) Empire.

In the same direction as the historical site of Naghsh-e-Rajab and at the termination of the Haji-Abad Mountain, there are many historical ruins belonging to the Achaemanian, Elamite and Sassanian periods.

These sites include: The stone carvings on the lower slopes (Sassanian), tombs of the Achaemanian Kings on the top of the hill and the square-shaped monument (Zoroastrian inscription) on the right side. This complex no doubt is a major tourist attraction site specially for those interested in archaeology and history.

Details of the carvings :
The impression shows Nerssi (296-304 AD), the elder son of Shapour I as being designated the King by Anahita (Nahid). This carving is located at the lower portion of the tomb of Darius the Great and consists of two similar seats. The upper image shows Bahram II (277-293 AD) fighting the enemy. Representing the conquest of Shapour I (242-271 AD) against Valerian the Roman Emperor.

In this carving Shapour I is sitting on a horse and Valerian kneeling by the horse. Ceriyadis (the challenger of Valerian) is standing in front of the horse, and the king of Iran with streched hands, offers him a ring, to rule east roma country.

This carving shows the conquest of Hormozd II, the Sassanian Monarch. A picture of Bahram II defeating the enemy. This famous carving is of great importance. It shows a person who is standing. To his left, a head and face can be seen. A representation of Ardeshir Babakan (226-242 AD), this carving shows him being designated as the King by Ahura Mazda.
Fullscreen Map