Also known as:
Ganjnaameh
,
Ganj-Nameh
,
Ganjnameh Inscriptions
,
GanjNameh Historical Inscriptions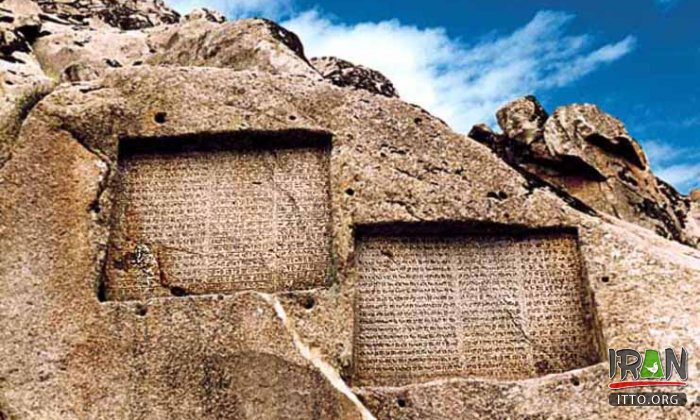 These inscriptions are relics from the period of 'Darius' and 'Khashayar Shah' of the Achaemenian era. The said are located 5 km. west of Hamadan at the end of the 'Dareh-ye-Abbas Abad' or Abbas Abad Valley, and have been engraved on a mountain.

Each of these inscriptions have been segregated into three columns with twenty lines, and in three languages of ancient 'Parsi', 'Baboli' and 'Ilami'. The Parsi text is to the left of these two inscriptions, the Baboli text is in the center followed by the Ilami text to the right of the engravings. The engraved tablet to the left is related to Darius the Great, under which is the engraving related to the period of Khashayar Shah.

The translation of the text on the right plate, attributed to Xerxes, is:

"The Great God Ahuramazda, greatest of all the gods, who created the earth and the sky and the people; who made Xerxes king, and outstanding king as outstanding ruler among innumerable rulers; I the great king Xerxes, king of kings, king of lands with numerous inhabitants, king of this vast kingdom with far-away territories, son of the Achaemenid monarch Darius."
Fullscreen Map