Also known as:
Hamedan Central Mosque
,
Masjid Jame'e Hamedan
,
Hamedan Mosalla
,
Jame Mosque of Hamadan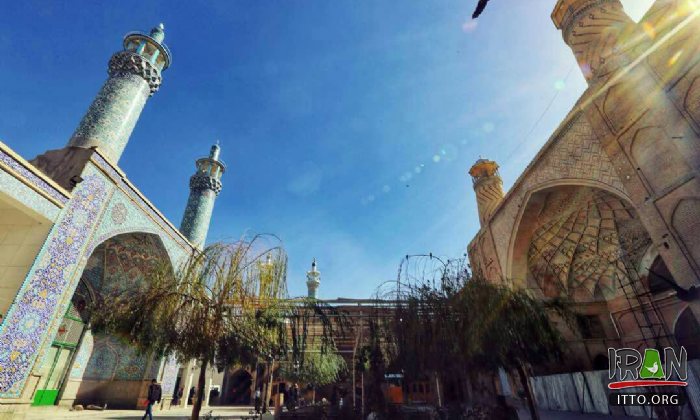 Hamadan Jame Mosque (Masjed Jameh Hamedan) is located near the central Sq. of Hamadan and to the west of Ekbatan avenue. The mosque is rectangular in shape, and formerly had four porches of which three have been remained. This structure comprises of two areas for nocturnal prayers, a brick dome and a large and pleasant court-yard with a huge pool in the centre.

To the southern side of Hamadan Jame' Mosque are shallow arches, and in the east and northern sides are the minarets. In the entrance corridor is a large stone trough, made of one piece of stone. On this, the name of the endower and date of the endowment is stated, besides which is a verse written in the nasta'liq script.

The Jame Mosque in Hamadan was built in the style of Fath-Ali-Shah-e Qajar period. This mosque has 2 Shabestans, 6 minarets and 3 balconies in northern, eastern and southern directions, which in recent years, a different shabestan has been built there with pillars in this mosque. There are no references to the builder in the inscriptions in the mosque.

There are 3 doors to enter the mosque, which according to the recent construction the main entrance door, that was on the west side of the mosque, was moved to the northern part by the construction of new entrances. The mosque has a double shell dome decorated with tiles. Other decorations used in the mosque can be pointed to gypsum Mogharnas (Moqarnas).

The mosque is registered in the list of Iran's national monuments with registration number 1733.
Fullscreen Map