Also known as:
Zolfaqari House
,
Zolfaghari House
,
Zolfaghaary Mansion
,
Anthropology Museum of Zanjan
,
Saltmen Museum of Zanjan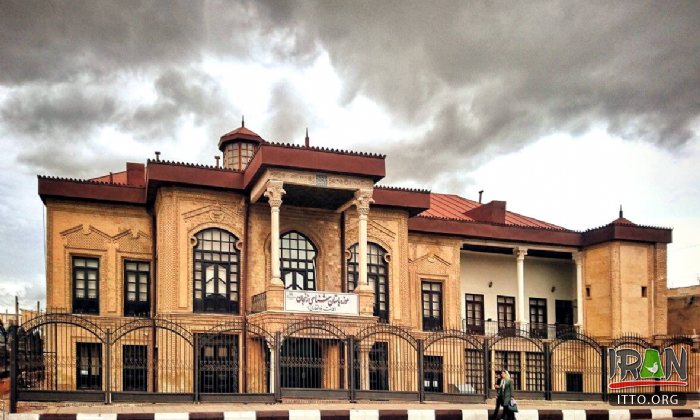 The historical complex of the Zolfaqary edifice (Zolfaghari House) is located in the central network of the old part of the Zanjan city. This comprises of the so called interior buildings (which mainly sheltered the women of the household and was their domain ), and the 'exterior' section. At present, only the central portion of the 'exterior' structure remains.

This edifice was constructed in two storeys, besides the cellar. The entrance of the ground floor, which has two pillars and a closed - in roof, gives way to a vestibule, (usually octagonal). Two staircases lead to the upper floor having halls, drawing and bed rooms and water closets. The focal point of architecture abided here is the dome in the central part of the ceiling, and the ceiling itself as what is known as Chahar Taqi (Chartaghi).

The building surrounding the Chahar Taqi are covered with wooden beams. In the nucleus of this structure is a spectacular, beautiful and octagonal light sutures. This is well known as Kolah Farangi (pavillion). The ceilings of the rooms are beautifully and artistically decorated in geometrical design and other works of art. Tile work from the Qajar era can also be noted. The facade of this structure is in brick. The windows in general have colored panes with a carved frame work.

In 2009, the mansion became the Anthropology Museum of Zanjan and now houses the Saltmen discovered at Chehrabad Mine.  Zolfaqari Mansion was registered as a National Heritage Site in 1996.


Saltmen of Zanjan:

Saltmen (Mardan-e Namaki) is a name which has been given to six mummified men discovered in Chehrabad salt mine, Zanjan Province, in the winter of 1993. Among them, there are the bodies of a woman and a teenage boy too. Some of the saltmen have been severely hurt as a result of mine working by bulldozer. In 2008, mine operation stopped and the body of the sixth saltman was left untouched in the mine due to lack of necessary equipment to maintain it.

Among discovered men, three of them belonged to Achaemenid period (about 400 BC) and two of them to late periods of Sassanid dynasty (about 400 to 600 AD).  Zalfaghari Mansion is a historical monument located in an old neighborhood called "Dalan-e Alti" in the northern side of Sabze Meydan and Jame Mosque in Zanjan. After the transfer of monuments found in Chehrabad salt mine, temporary museum of mummies was created in 2007, and the first museum of archeology of Zanjan opened in Zolfaghari Mansion in 2009.
Fullscreen Map