Also known as:
Shazdeh Fazel Shrine
,
Emamzadeh Shahzaadeh Fazel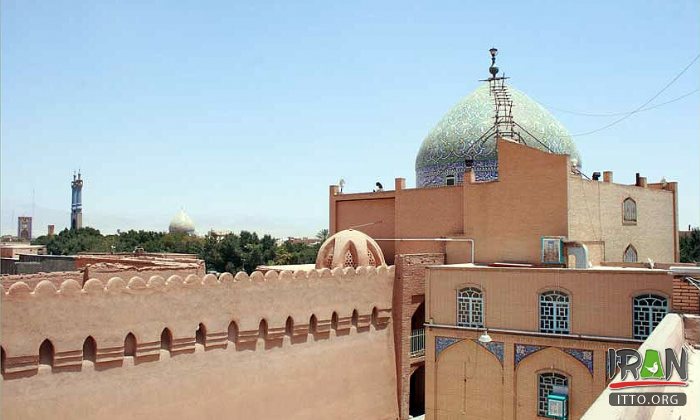 Shahzade Fazel Complex, or as local say Shazdeh Fazel, consists of the mausoleum and shrine of Shazdeh Fazel decorated with small pieces of mirror, Hosseiniyeh of Shazde Fazil and the Shazdeh Fazel bazaar, dating back to the eighth century and the Timurid era. This complex is also registered in national Iranian Monument.

Emamzadeh Shazdeh Fazel was built around 800 hundred years ago by Amir Mobarezo Aldin. He was told to build it in a dream by the son of Imam Musa Kazem.

The Shrine of Shahzade Fazel in Yazd was built in the eighth century. According to Jame'e Jafari (the first history book written about Yazd), this building was restored in 1226 AH. Another writer states that the restoration was completed in 1240 AH.

This 2-storey building is decorated with mirror work, stucco and fresco work, and beautiful elegant paintings. It also has two separate entrances: one on Imam Khomeini street and the other one on the Shazdeh Fazel Bazaar. On the north side, there is a pavilion with some nice mirror work and some beautiful calligraphies, and two new large latticed and colored doors, and there are several brick lattice windows along the western side.

For the construction of the dome, 12 large pillars were installed in 4 directions of the mausoleum. In the middle of the building, there is a magnificent gorgeous zarih foiled of silver and gold pieces.

The façade of the mausoleum has a curve, arches and two minarets decorated with some calligraphic, diamonds, and seven color tiles with Islamic designs. The outer layer of the dome has a curved slope decorated with seven colored tiles and Islamic designs. The body of the mosque is also in the form of a hat with a diameter of 10 and an approximate height of 15 meters.

At the entrance of Emamzadeh Shazdeh Fazel there is a Husseinieh called Hussainiya Shazde Fazel.

The name of Hussainiya comes from the name of Hosein ibn Ali, the grandson of Mohummad and one of the most important Shia imams.
Hussainiyas are large halls that Shiite's use for ceremonies, especially those associated with the mourning of Ashura. Shiite Muslims believe that Hussein was killed by Yazid in the Karbala desert in Iraq on Ashura day in the month of Mohurram.

This Hussainiya is one of the biggest in Iran and each year many Shiites come from different parts of Iran for Mohurram. This big hall also has a narrower entrance that leads to the Shazdeh fazel Bazaar.
 
Fullscreen Map