Also known as:
Kalat Nader
,
Sun Palace
,
Khorshid Mansion
,
kaakh-e Kalat
,
Kaakh-e Khorshid
,
Khorshid Palace of Kalat
,
Qasr-e Khorshid
Khorshid Palace in Kalat Nader city of Iran (khorasan Razavi Province), was built in Afsharid dynasty after subjugating India by Nader Shah. This unique cylindrical palace built of black marble at Seventeenth Century.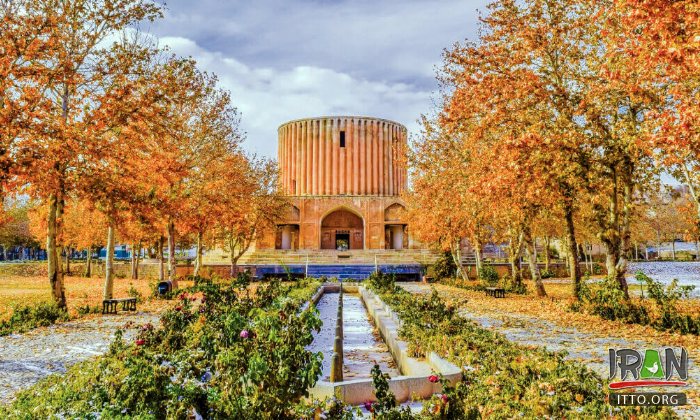 Dating back to 1740, The Khorshid Palace of Kalat (Ghasr-e Khorshid) near Mashhad in Khorasan Razavi Province is from the time of Nader Shah Afshar and had most probably been constructed so as to house the royal family.

During his Indian conquests, it was not only loads of diamonds, gold, and pearls that Nader Shah brought to Iran from India, but also proficient architectures. These architectures are the ones who designed and constructed Khorshid Palace.

Kalat means Castles and villages located on top of a mountain. Kalat area in Mashhad is famous as the land of impenetrable castles because of its location among many high mountains.

The facade of Khorshid palace (Qasr-e Khorshid) is cylindrical, built of black marble. At present this palace stands 20 m. in height and contains 12 rooms decorated with paintings and ornamental works such as plaster moldings. In the center of this palace there is a tower enhanced with fire architectural design.

There are also pictures of Nader's princes on the walls. The beauty of this mansion is more on the palace's outward appearance, in which there are the Mongolian and Indian architectures. In the middle of this building, a circular tower has been constructed with cracks like half-columns known as a cucumber.

The name Khorshid (literally 'sun') refers to one of Nader Shah's wives, not some arcane astronomical purpose.

There is a belief that the subterranean part of the three-story palace once hid Nader Shah's treasures, while others believe it served as a prison.  Khorshid Palace is currently a museum of anthropology. There is also an underground ethnology museum which graphically depicts village life in Razavi Khorasan Province.
Fullscreen Map