Also known as:
Namak Cave
,
Ghaar-e Namak
,
Namakdan Cave
,
Namakdan Mountain
,
Namakdan Dome
Namakdan Cave in Qeshm Island is one of the masterpieces of creation. The cave is an appropriate place for treating those who suffer from asthma and respiratory problems. With a height of 237 meters and length of over 6,000 meters, this natural attraction is considered as the largest salt cave worldwide.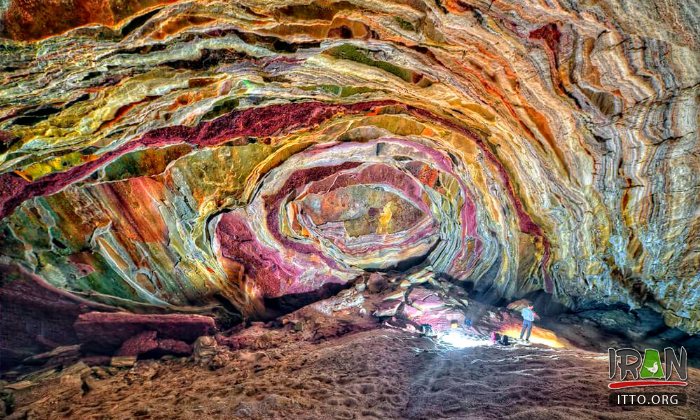 Namakdan Salt Cave (Namak Cave) in Qeshm Island With a length of six kilometers, The worlds largest salt cave is filled with fragile salt sculptures, salt rivers, and huge salt megadomes. See numerous salt crystals in pink, purple, blue, crimson red and white. Different layered colors sparkle like an oil painting under the headlight.

Walk on thousands of small, pink salt crystals and hear them crack under your feet. And taste the salt, which is so soft and pure and filled with minerals and goodness. Additionally, your lungs might benefit from the slightly humid and moist air known for its therapeutic treatment.

The Saltwater flows that move on the bed of Namakdan Salt Cave creates an especially fascinating scenery for the visitors. The saltwater flows reflect the images around it and add up to the beauty of the cave. There is a small natural white spring that is fed by the saltwater flows. This spring flows throughout the year. The moisture of the island together with the penetration of water into the cave cause the saturated saltwater to leak and produce beautiful icicles on the ceiling.

This salt dome is 90 kilometers far from the city of Qeshm and is on the southwestern part of the island. It is in a 2-kilometer distance from the road. If you are a nature lover, you can walk this distance to get to the cave. There is not much light when you enter the cave and it gets darker as you walk forward to the depth of the cave. Therefore, do not forget to take flashlights with you. Please also note that you need an expert guide or else you will get lost.
Fullscreen Map