The province of West Azarbayjan has the largest lake of Iran in its territory, known as Lake Orumieh. This lake is at an altitude of 1,267 m. from the sea level, with a length of 130-140 km, the width being approximately 15-50 km. and at an average depth of 50-60 m.
Its waters are extremely salty (twice the salinity of the oceans), consequently the lake never freezes. From olden times, local physicians made use of the water (because of its mineral content) and coastal sludge, in treating skin diseases and rheumatoid disorders. The best season for bathing in these waters are from the end of June till the third week of August, when the lake begins getting cold.
Lake Orumieh (Daryacheh Urmia) has numerous islands, both large and small totaling to 102 in number. The most important of these being the following, Kaboodan (Qoyoon Daqi), Ashk, Espeer, and Arezoo.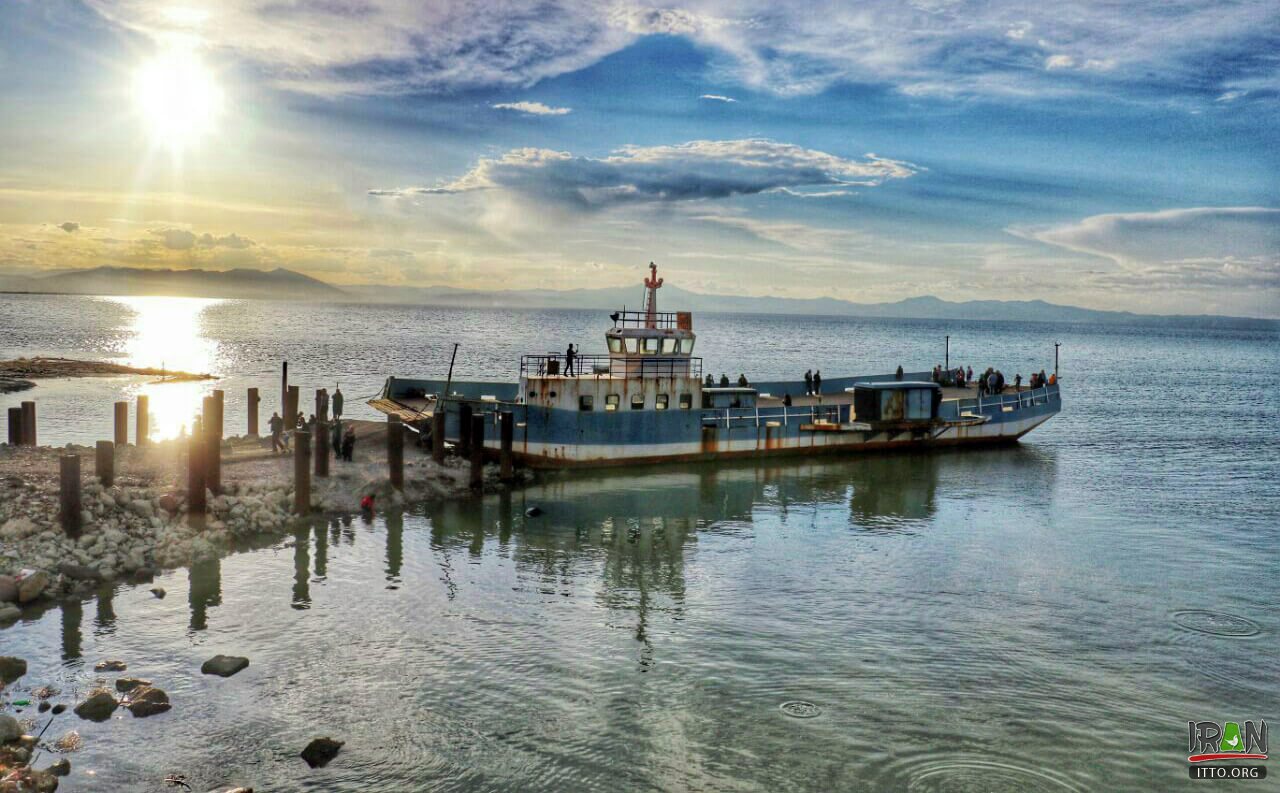 The level of water at Lake Urmia, a body of water located in northwestern Iran, is unprecedented for the past 10 years
Urmia Lake Bridge:
It is the largest and longest bridge in Iran, and crosses Lake Urmia, connecting the provinces of East Azerbaijan and West Azerbaijan. The project was completed in November 2008. The bridge reduced the driving distance between Tabriz and Urmia by 135 kilometres (84 mi).
Kaboodan Island:
This island is one of the largest islands of the lake Orumieh, located to the east of which and covering an area of about 3,175 hectares. Its vegetation being generally short scrubs and a variety of trees bearing wild fruits and nuts. Mammals such as wild goat and wild sheep exist on this Island. It is protected by the Department of the Environment as a National Park.
Ashk Island:
This island lies to the south of the Island of Kaboodan and 40 km. from the port of Golman Khaneh. This island has a 'sweet water' spring and provides a natural habitat for resident and immigrant birds. One of the rarest species of wildlife known as the 'Iranian follow deer' is found here. The Island covers and area of 2,115 hectares and its vegetation is similar to that of the Island of Kaboodan.
Espeer Island:
This island covers an area of 1.151 hectares, located to the west of the Kaboodan island and 27 km. from the port of Golman Khaneh. This island provide a natural habitat for birds. The island also has one jetty. These islands have facilities for swimming and water sports.