Also known as:
Sardaar Mosque in Oroumiyeh
,
Masjid-e Sardaar
,
Sa'atlu Mosgue
The mosque in Iran's northwestern city of Oroumiyeh (also Urmiye) was constructed in Qajar era (1785-1925) by Abdol Samad Khan, forefather of Azim al-Saltaneh Sardar.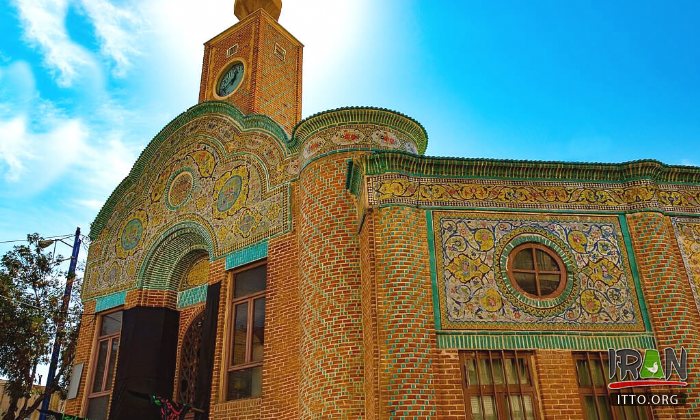 The Sardar or Sa'atloo Mosque (Sa'atlu) has been constructed during the Qajar period. In the year 1951 a huge clock was affixed on the entrance and was then reputedly known as the Sa'atloo Mosque. It has interesting architectural design which was constructed of brick during the Qajar period. The mosque is in two sections, the basement and a long hall. Interesting architectural affects can be noted in this structure.

This brick mosque has a 22-meter Shabistan (inner sanctum) with 12 stone pillars. These octagonal pillars have column headers with Muqarnas (ornamental vaulting) decorations. About one-meter of the length of the walls of the Shabistan are covered in green tiles. There is a border consisting of pink, white, blue, yellow and green seven-colored with floral motifs above the green tiles.

A small entrance connects the large Shabistan to a smaller one that has no ornate decorations. There is a small Mihrab (prayer niche) with colorful tilework and Quranic inscriptions on the southern part of this Shabistan.

The other designs and beauty of this mosque, the rainbow tiles which are designed with blue, pink, green, white and brown color and Ayat-Al-Korsi is written inside one of the margins around the Mehrab.
Fullscreen Map