Shahr-e Gour (Firuzabad Ancient City) is located to the northwest of the present city of Firooz Abad in Fars Province. Firuzabad was known as Ardashir-Khwarrah city or Shahr-e Gour in the past. The town was later known as Gur (Jur in Arab texts).
Ardashir seems to have built the first palace there before his victory over the Parthians. Because having a city called by one's name was a strictly-observed royal privilege, his act provoked the Parthian king Artabanus V, Ardashir's sovereign at that time, to attempt to punish the rebel – an effort which ended in his own defeat. Some scholars believe that a flourishing settlement has existed on the site of Gur since the Achaemenid period.
The remainders of the old fortification of the city, stony and brick-made buildings have covered the area. The remains of the ancient city of Firooz Abad (Firuzabad), constitute one of the most valuable historical sites of Iran.
The city occupied about 300 hectares and was enclosed by a lofty mud-brick rampart and a moat 50 m wide. Two axes, intersecting at right angles, divided the town into four equal parts. At their ends, these were marked by four gates – the Gate of Hormoz inthe north, the Gate of Ardashir in the south, the Gate of Mithra in the east, and the Gate of Bahram in the west.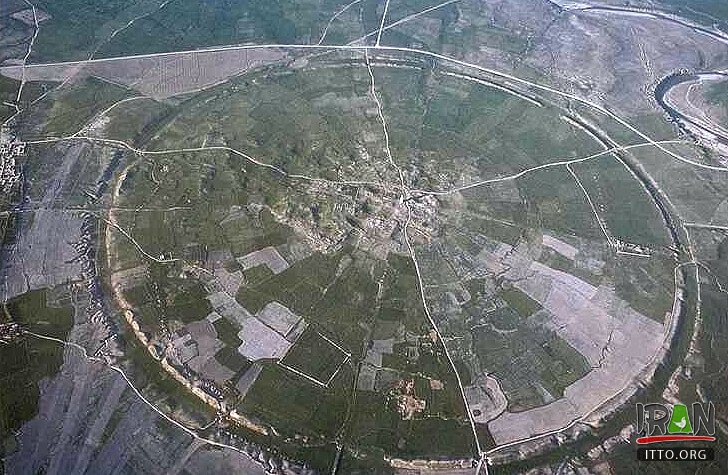 Gur is the first circular city in Iran and one of the first circular cities in the world. Ancient Gur is located three kilometers from Firuzabad.
The four parts of the town were further divided into sectors, each surrounded by a separate wall in such a way that if the enemy succeeded in occupying one sector, he would have had to storm another rampart before taking over the next. The center of Gur was occupied by a governmental district consisting of a circle with a radius of less than 1 km; it served the purposes of the court, and was also separated from the rest of the town by a wall.
Eight archaeological sites situated in three geographical parts in the southeast of Fars Province: Firuzabad, Bishapur and Sarvestan were recorded in UNESCO World Heritage in 2018 as Sassanid Archaeological Landscape of Fars Region.