Also known as:
Mirza Kuchak Khan Jangali Tomb
,
Mausoleum of Mirza Koochak Khan Jangali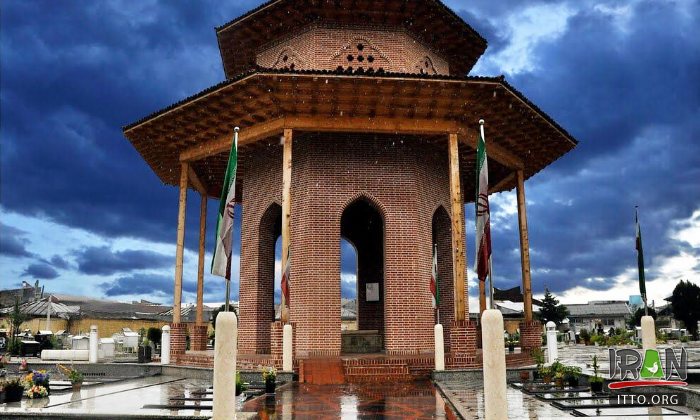 The tomb of Mirza Kuchak Khan Jangali, reputedly known as Sardar-e-Jangal is located in the south of Rasht. This simple and at the same time beautiful monument is held in high respect of all who visit the vicinity.

Mirza Kuchak Khan Jangali was a fighter of the constitutional revolution and leader of the Jangal movement who fought against the violation of borders and the independence of Iran from foreigners.

The building in his memory, between the mausoleum and the cemetery Soleiman Daraab, beautiful in its simplicity was built taking into account the canons of traditional architecture and in the form of a regular octagon, one of the usual architectural geometric forms of Iran, with eight beautiful columns and wooden capitals all around the mausoleum.

The elements that make up this building are mostly bricks, tiles, clay and wood and all are considered local materials whose combination with the green environment and the ancient trees around, recall the forest and adapt to the liberal spirit of that fighter character.

Around the mausoleum of this great man, the historical protagonist of the struggles of Gilan and Iran, the bodies of the militants of the Jangal movement are buried, whose names are engraved on their respective sepulchres. Next to the tomb of Mirza Koochak Khan there is also the mausoleum of a famous and popular poet of this region, Shivan Fumani and other celebrities of this area.

The nearby Kolaah Farangi palace, the Mirza Kuchak Khan house museum and the Ganjineh museum are among the tourist attractions of Rasht. It is interesting to know that the burial of the head of Mirza Kuchak Khaan-who was separated from the body and was in Tehran- was buried next to his statue in the village Khanghah Gilvaan (border between the Gilan region and Ardabil), with 44 years away. The head and the statue were then transferred to the place of the current tomb.
Fullscreen Map