Also known as:
Zahhak Citadel
,
Narin Ghala
,
Zahak Castle
Zahhak Castle history goes back to 3000 years ago, which was an important place for ancient Persian people of Mannaeans, Medes, and later on Parthian and Sasanian. This castle is near Hashtrud city in East Azerbaijan province.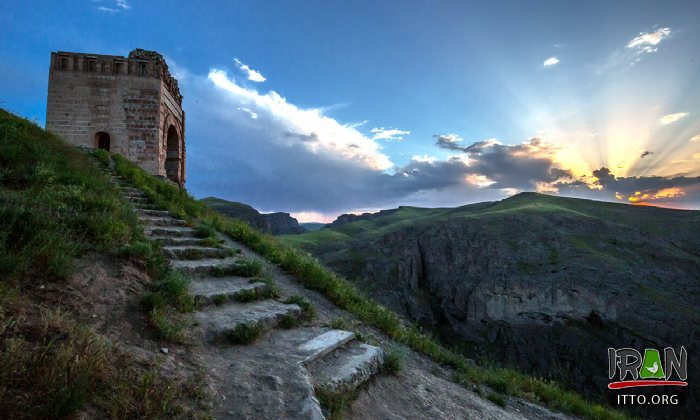 The remnants Zahhak Castle (Narin Ghala) near Hashtrud in East Azerbaijan is in east of the Khorassanak station on the railway line running between Tehran and Tabriz. This castle dates back to some centuries BC, but during the Esmaili reign was repaired and utilized. Zahhak Castle was most probably a watch-post of the times before being used for residential purposes.

It is named after Zahhak, a figure in Persian mythology. According to various experts, it was inhabited from the second millennium BC until the Timurid era. It was first excavated in the 19th century by British archeologists. Iran's Cultural Heritage Organization has been studying the structure in 6 phases.

The important part of castle which is preserved very well, is 4 arches hall (Chahar Taghi) which is represent of four elements in Zoroastrianism, this hall has a 11X11m square-shaped hall, walls 2.5m thick, and 4 entrances to 4 corridors built with bricks, which was decorated with beautiful plasterworks of human which unfortunately now you cannot see many plasterworks in it, except beautiful bricks work, vegetation and geometrical designs. During this time, Zoroastrianism was the religion of the ruling kings, who likely used this part of the castle for a fire temple. And according to archeologist it is one of few Mithraism sites found in Iran (one out of 3 or 4 places found so far).

When spring arrives many visitors flock to the caste to inspect the castle and the beautiful landscape around or to reap the pharmaceutical herbs. At times groups of travelers pitch their tents in the vast and green vested plains in the area to benefit from the pure air and inspect the monument.
Fullscreen Map