Also known as:
Istakhr Ancient City
,
Estakhr
,
Stakhr
,
Estakhr Castle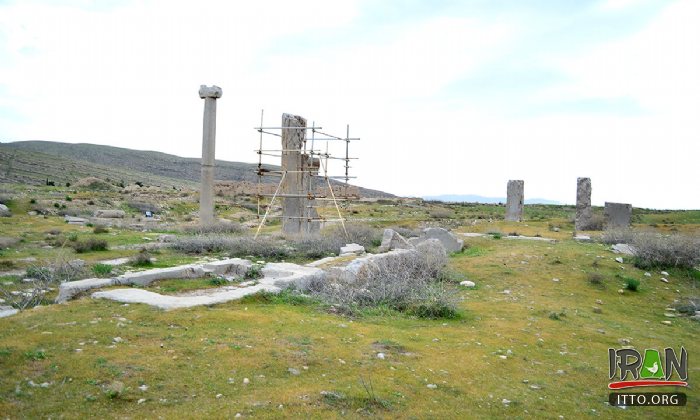 Estakhr Ancient City (Takht-e Taavoos) Located 7 km. from the remains of Persepolis (Takht-e-Jamshid), the ruins of the city of Estakhr known as Takht-e-Tavoos exists. It includes a stony gate, columns and walls dating back to the Achaemenian period. Many archaeological objects have been found at this site, which belong to the Sassanian, Parthian and Islamic eras.

The Estakhr Mountain is to the extremity of the southwest of the Marvdasht plains. On top of which the famous Estakhr Castle was constructed in the Azododoleh-ye-Deilami period. In this place a large pool (Estakhr) was made, but unfortunately at present, only a very tall ancient cypress tree dating back to a century can be seen among the ruins of the stony building of the castle.

Istakhr first appears in history as an Achaemenid city. It gained its importance not only from its close association with Persepolis: it also commanded the western end of an ancient caravan-route that ran from the Indus Valley via Kandahar and Drangiana to Persia. The city temporarily became the capital of the Sasanian Empire during the reign of Ardashir I (r. 224 to 242) before the capital was moved to Ctesiphon, in Mesopotamia. During the Sasanian period (224 to 651) the royal treasury of the empire, known as ganje Shahigan, is said to have been in Istakhr. In 915–916, al-Masudi himself saw in a house at Istakhr owned by a Persian noble, "the large and very fine manuscript" of a work copied in 731 from original documents in the royal treasury.
Fullscreen Map