Also known as:
Tang-e Sulak
,
Tangeh Sorouk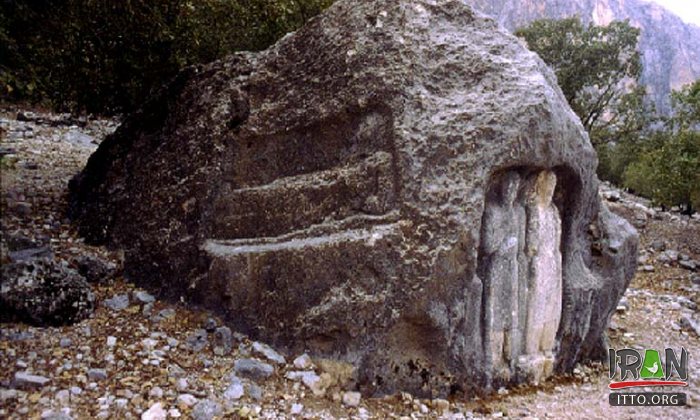 Amidst the various mountains standing side by side in Kohkiluyeh Va Boyer Ahmad province, is a narrow pass or gorge named as Soulak or Sorook (or Tang-e Sulak). Here there are three tall columns of stone, engraved with figures of man from all walks of life in various poses.

Each of these pillars has an archaic epigraph.The Sorook relic has been engraved on four sides of a gigantic rock. To the northern front two embossments can be observed in the upper and lower sections, displaying the monarch on his throne and his courtiers on either side. In the southern direction, two figures in a form of worship, one facing a brazier and the other standing behind the first on a lower level. On the western side embossments of two men with upright arms can be seen. On the edge of the rock, there is an embossment figure which is considered to be the largest engraving of the Sorook Gorge.

To the northern front, there is the engraving of two soldiers with a wide scabbard and a chain. On the eastern side is a figure bent over a bed or bench which is in a ruined condition. In this gorge various engravings similar to that of Rostam can be observed. These can be relative o the reigns of Bahram Sassanide II, Bahram Sassanide III, Hormoz II and Shapour II. In all these engravings, warriors are on horses, and the only weapons in use are long spears. The conqueror is to the left side of the tablet. The number of engraved figures in the various engravings of the gorge amount to forty.

Figures of animals such as horses, lions and birds can also be seen in the embossments. The coronation ceremonies of a few sovereigns have been brought to light in the engravings of the Sorook Gorge and one of these monarchs (it is shown) receives his headband from Izad or the almighty, thus this sovereign offers a sacrifice. The most important facet noted in engraving of Sorook Gorge are the human features which are totally different to those of Parthian and Sassanide eras.
Fullscreen Map