Also known as:
Abu Ali Ibn Sina Tomb
,
Ibn-e Sina Mausoleum
,
Avicenna Tomb Museum
The Mausoleum of Avicenna (Abu Ali Sina) is a complex located at Avicenna Square, Hamadan, Iran. Dedicated to the Iranian polymath Avicenna, the complex includes a library, a small museum, and a spindle-shaped tower inspired by the Ziyarid-era Kavus Tower.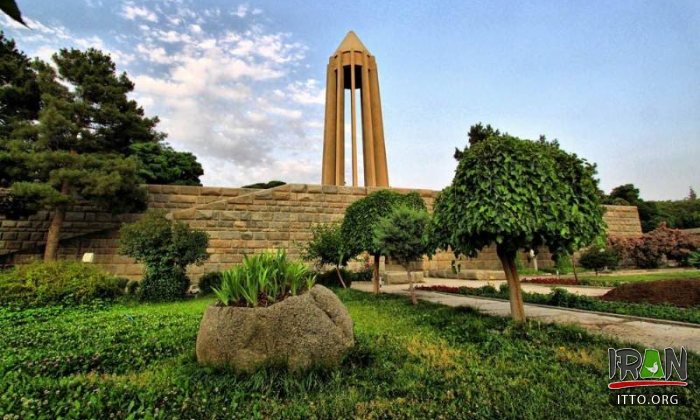 Avicenna (Hojjat-ol-Haq Sheikh-ol-Rais Sharaf-ol-Molk Abu Ali Hossein Ebne Abdollah Ebne Sina) was the great philosopher, scholar, physician of Iran (370-428 AH). His tomb is located in Bu Ali Sq. Hamadan. The present structure was constructed in the years 1946-1951 and since then has been repaired and renovated thrice.

Located in an area of 3,090 sq. m. the area under foundation is 1,792 sq. m. The facade of the tomb is of hard stone. Three wide steps lead to the porch where there are ten stone columns. Each of these columns depict a century from the time of the birth of this great man upto date. The wide wooden doors of the porch, open to reveal the interior with its stone walls and flooring.

The main area is square in shape and the twelve base pillars supporting the tower of the tomb are situated here. The tomb of Avicenna is between the tower and the tomb of his bosom friend 'Abu Saied'. On both these graves are marble tablets and inscriptions with nine lines in the 'Sols' script. On two sides of this vicinity, are two halls, one a conference hall and the other a library.

The tower of the tomb has been constructed with cement and pieces of hard stone. In the midst of the twelve panels of the tower, is a cubical bronze or 'gun metal' chest conical at the top. On the four sides of which are engravings in the 'Sols' script. In the year 1949, a portrait of Bu Ali was drawn by Master Abol Hassan Sadiqi, based on particulars obtained from records. In accordance with this portrait, the statue of Bu Ali Sina was sculptured in white marble and affixed in Bu Ali square of Hamadan.

The new memorial structure of the tomb of Avicenna (Bu Ali Sina), was constructed in the year 1941 right in its former location. From the architectural aspect the dome of the said structure is an inspiration from 'The Gonbad-e-Qaboos' in the plains of Gorgan, and 'Persepolis' or Takht-e-Jamshid. In the museum here, ancient relics, an anthropology section and books of Avicenna are on display.

Besides which exhibits such as bronze statues related to the 1st millennium BC., gourd bottles (or canteens), coins, beads and articles of silver related to the Sassanide period. The tomb of the great Gnostic 'Qazvini' is also located in this vicinity.
Fullscreen Map