Also known as:
Semnan Central Mosque
,
Imam Mosque in Semnan
,
Masji-e Emam
,
Sultani Mosque
,
Masjed Shah (formerly)
,
Imam Khomeini Mosque
,
Abbasi Jame Mosque
,
Semnan Jame Mosque
Founded under Fath-Ali Shah in the 1820s, this mosque is a large courtyard affair with four iwans at the cardinal points – the higher east and west ones offer a measured use of restrained colored brickwork. On Friday mornings the courtyard is filled with colorful carpets to prepare for lunchtime prayers.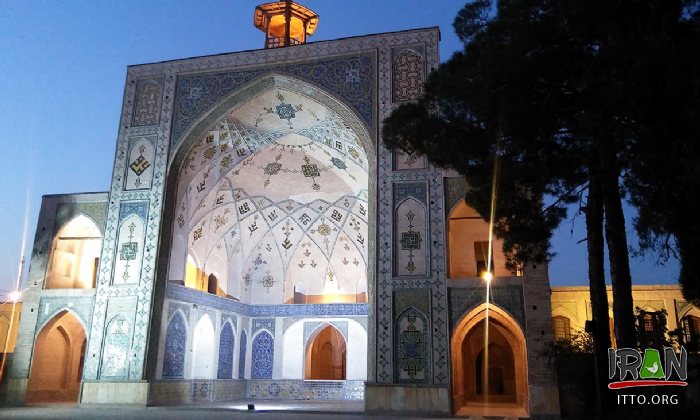 Imam Mosque in Semnan (Masjid-e Emam, Masjed Sultani, Masjid Jame' Abbasi) also called Masjid-e Shah (Royal Mosque) located in the city center of Semnan is one of the finest and the most stunning buildings in the world.

This Mosque, begun in 1612 during the reign of Shah Abbas I and, despite the Shah's impatience, under construction until 1638 represents the culmination of a thousand years of mosque building and a magnificent example of architecture, stone carving, and tile work in Iran, with a majesty and splendor that places it among the world's greatest buildings.

This mosque has four large entrances on four sides. The doors to the northern, southern and eastern sides have a vestibule (usually octagonal in shape) and corridors. The upper portion of the northern and eastern doors are arched and artistically worked in plaster and tile.

The ceilings of the vestibules, on the north , south and eastern sides are constructed of bricks, and are domed shaped with numerous arches and designed with tiles. There are four porches on four sides along with an area for nocturnal prayers. Behind the western porch is an inscription revealing the final date of construction (1342 AH.). Here there is a marble pulpit besides the altar. On the top of western porch is a small dome adorned with blue tiles.

There is also a tiled inscription from he Holy Qoran, all around the western porch worked in white tiles on a blue (tiled) back ground. After he Islamic revolution, this mosque was repaired by the Cultural Heritage Organization.
Fullscreen Map