Also known as:
Shahrdari Square
,
Meydan-e Shahrdari-e Rasht
,
Rasht Square
One of the main squares of Iran is Rasht square of Municipality. Existence of markets and stores in this square has made here one of the destinations of Rashti people for walking and disporting. The municipality square of Rasht includes the building of the municipality and the clock tower. This tower is one of the symbols of Rasht. In the past, it used for surveillance, security and fire prevention in the city.
This historical square dates back to Pahlavi dynasty (Reza Shah Pahlavi) and is one of the modern places of Iran from the past up to now. In this square, the first municipality of Iran is located. Baladieh (old name for municipality) was founded in 1907 and was renovated later in 1926. This place was under control of Russians in the past and pattern of construction of it is from that country. Today, some historical parts like Telegraph Museum, Old hotel, Clock Tower and other buildings can be seen here.
Shahrdari Square is the most famous landmark of Rasht. It is the heart of Rasht and it is in the middle of Rasht's map. Some architects from Russia built this square more than 100 years ago.
The most popular part of square is Municipality Palace. This palace was built from year of 1907 to 1926 by Artem Sardaraf. Municipality palace has a clock tower which rings every 30 minutes. It also rings according to hours. For example, if the time is 03:00, it rings three times. You can see sculptures around and in the middle of square. They are symbol of Rasht city. The most popular sculpture belongs to Mirza Kuchak Khan.
National Library of Rasht is situated near sidewalk of Alamolhoda which has different view with markets. This library was built by Muhammad Ali Tarbiat in 1934. The library is open from 08:00 A.m. until 06:00 p.m. In Fridays and holidays, it is closed.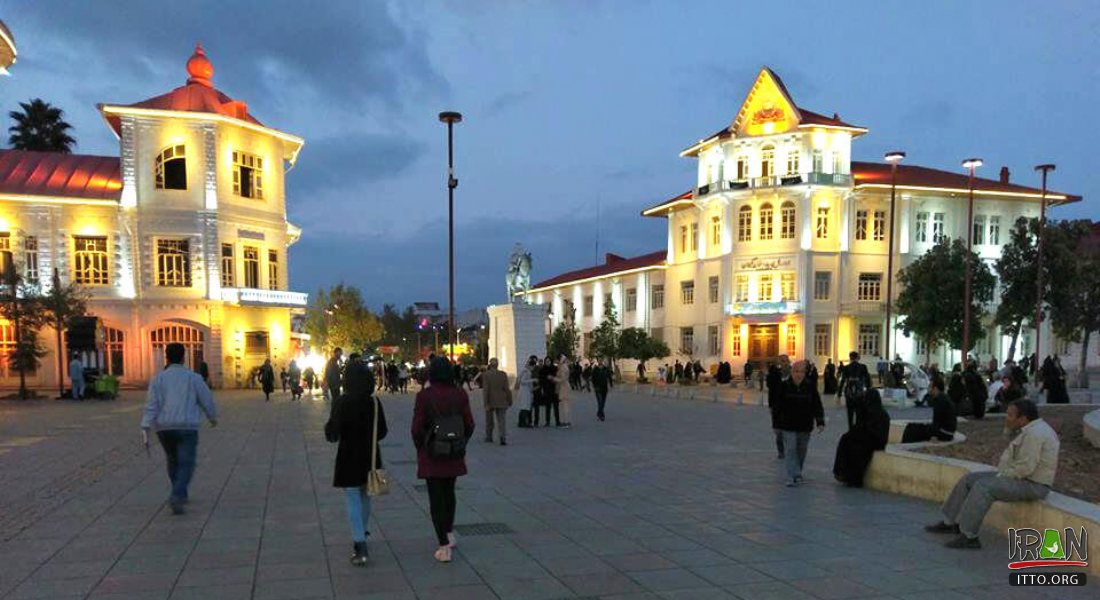 Shahrdari Square plays an important part in the liveliness of Rasht. It has become a very popular meeting point for locals and as a result, it can get crowded in the evenings.
The late-night tale of Rasht begins in Shahrdari Square, then whirls through the smog of the local kebab houses and the fountain pool of Sabze Meidan only to return to the Square of Shahrdari. Rasht has a circular shape and as a result wherever you go you will end up in Shahrdari Square.