Also known as:
The Glassware and Ceramic Museum of Iran
,
Muze-ye Abgineh va Sofalineh-ye Iran
Abgineh Museum of Iran or Glassware and Ceramic Museum is one of the unique collections of glassblowing arts in Iran. This museum is located at 30 Tir Street (formerly known as Ghavam Al Saltaneh Street), in Tehran.
Abgineh Museum was founded in the order of the former Queen, Farah in 1980. the museum is housed in the 1915 mansion of a former prime minister in Reza Shah's government, and from 1953-1960 it functioned as the Egyptian Embassy, so the building itself has architectural merit.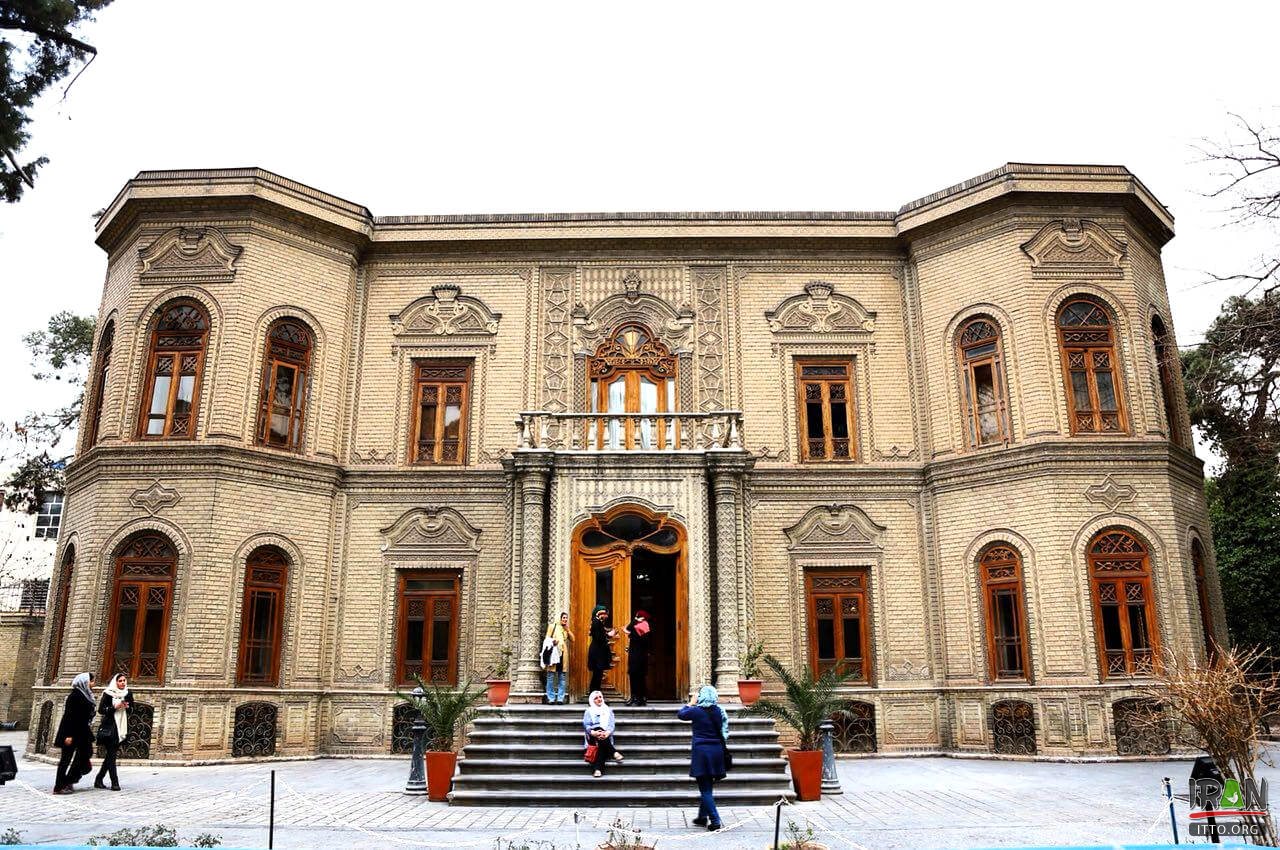 This museum, that is actually a historical house is 90 years old. It belonged to Ahmad Qavam, one of the famous politicians of Qajar era.
This house constructed on an area of 1040 square meters which contains two stories. There are two similar buildings, in case of architecture and brickwork, in Tehran; Ahmad Shahi pavilion and Teymur Tash house. This splendid monument was the house of Ahmad Qavam (1909-1979), an influential political figure of Qajar and Pahlavi eras, for 30 years.
You will see a combination of Iranian and European (19th century) architectural style in this mansion. The first floor joined to the second floor through wooden stairs like Russian style. To set entrance temperature and light into the building they used double-glazed windows instead of wooden doors. The interior of this house belongs to the Farabi Cinema Foundation, and the exterior belongs to the Abgineh Museum.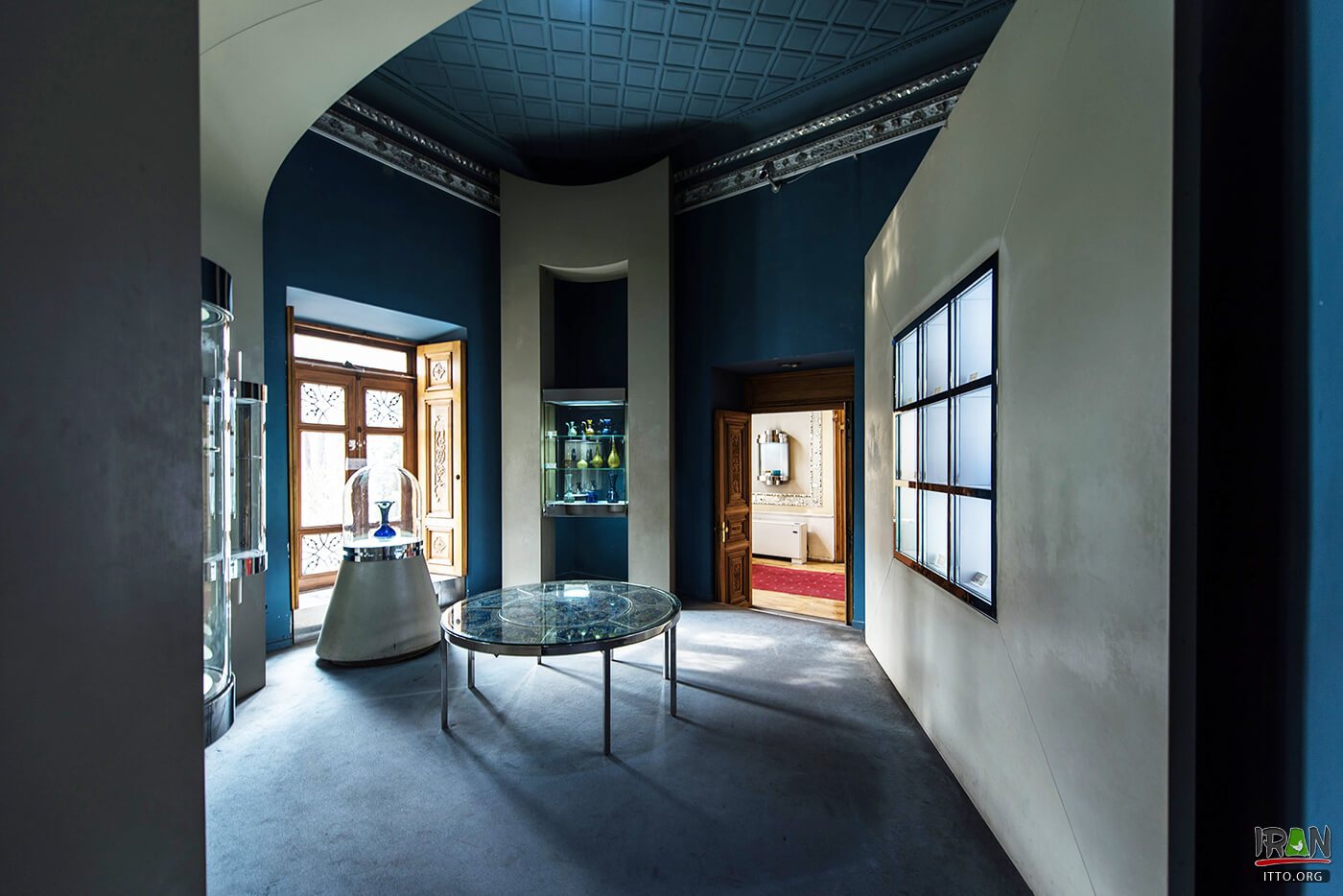 You can find the rare collection of glass and clay works in this interesting museum with its unique building and architecture. You will see objects dating back from the 4th millennium B.C. up to the present time as well as glass works from the 1st millennium B.C. up to the contemporary era.
The showcases in this museum are one of the prominent features of Interior design of this mansion. These showcases designed inspired by the pillars in Persepolis, Tachara, and Ka'ba-ye Zartosht. The designer of these marvelous showcases is the famous Austria designer Hans Hollein.
The Glassware and Ceramic Museum of Iran:
Glassware and Ceramic Museum of Iran and its surrounding garden have a total area of 7000 square meters. The building is on two floors with five halls. It is curated chronologically in such a way that Pre-Islamic items are in the first floor containing Bolur Hall, holding glassworks from ancient Iran, and Mina Hall, holding the most iconic items which are glass tubes from Choqa Zanbil, dating back to 2000 BC. The Audio-visual Hall in this floor is allocated to studies and researches on the items in the museum.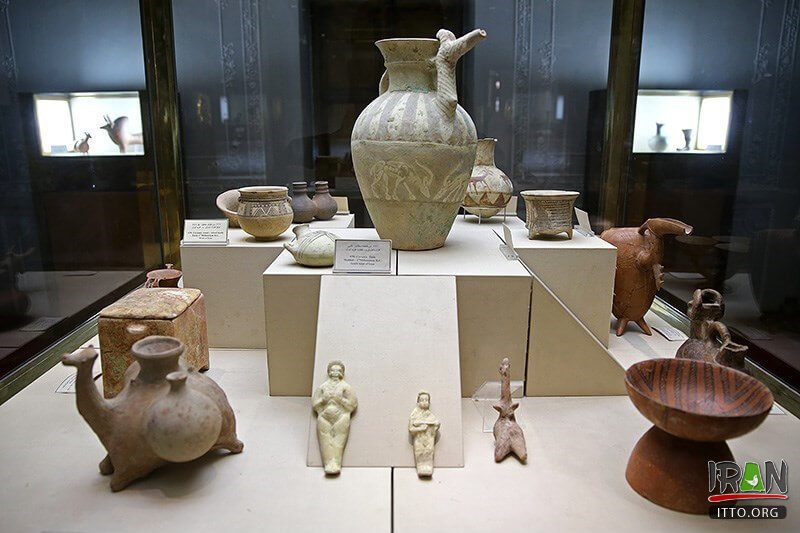 Objects exhibited in the Abgineh Museum belong to a span of time beginning from pre- Islamic period up to contemporary Iran.
The Islamic era items are located on the second storey including several halls:
The Shell Hall, resembling the shape of a shell, which has an excellent exhibition of 9th and 10th century clay works from Neishabur, the Zarin Hall holding Seljuk era lusterware and items which are mostly decorated with inscriptions and Mongol's figures on them and the Turquoise Halls displaying Ilkhanid potteries from 15th century.
Abgineh Museum includes dramatic 'Nishapur' slip-painted ceramics Of the early medieval period, glass works from the 12th-13th century, known as the Golden Age of glass-making in Iran, lustreware from the Gorgan and other excavations, 14th-century pottery from Takht-e Soleyman and some later Safavid and Qajar ceramics. Most of the glass, however, some 260 pieces is exhibited on the ground floor on the Glassware and Ceramic Museum.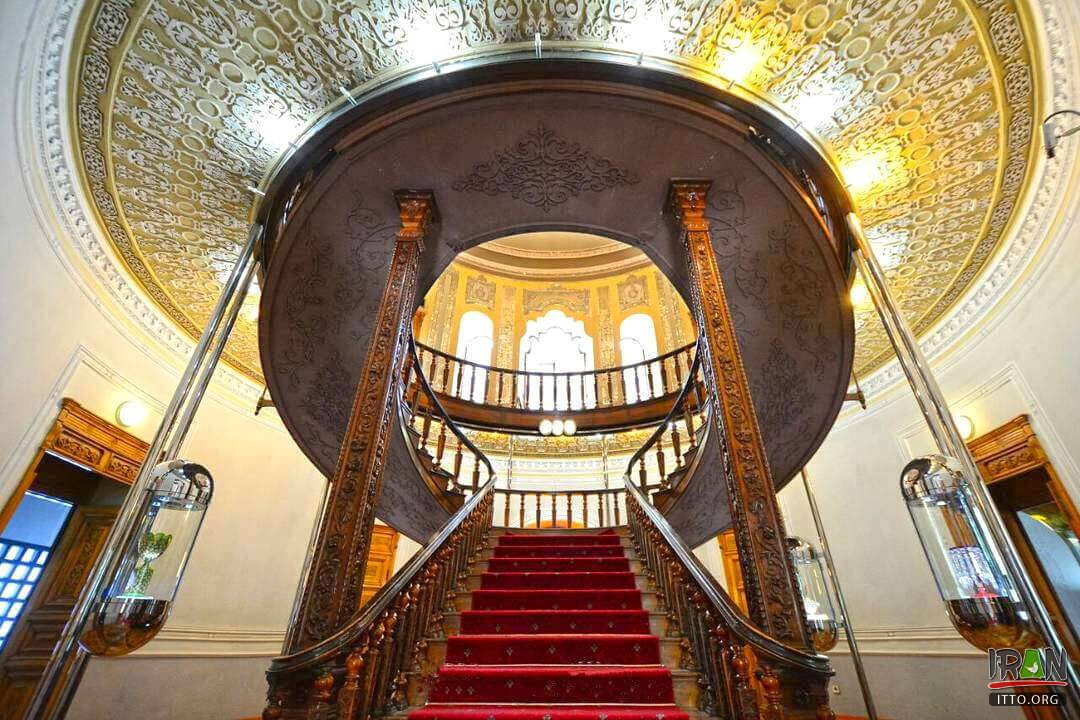 This monument used to be Egypt and Afghanistan embassy, a commercial bank and finally a glassware and ceramic museum. The museum was founded in the order of the former Queen, Farah, in 1980.
The museum objects, in general, can be divided into five categories each in a different hall:
Enamel Gallery:
The potteries in this collection consist of some samples of plain clay vessels belonging to B.C period having angular and animal patterns. On some artifacts, the early examples of glass glazes dating back to the 3rd millennium B.C can be found. The collection of Chogha Zanbil temple glass tubes as well as opaque perfume holders, ornaments and seals exhibited belong to the 1st and 2nd millennium B.C.
Crystal Gallery:
In this gallery, Achaemenian and Parthian period cut crystal vessels and bottles are displayed for visitors. Various vessels of Sassanian and post-Islam period are also added to this collection bearing molded, applied, pressed and cut decorations.
Nacre Gallery:
The evolution of the Sassanian period's arts and techniques are observed here. Some samples of 9th to 13th centuries A.D are also exhibited in this gallery. In fact, the flourishing period of glassware and pottery is presented in the showcases here.
Gold Gallery:
The artifacts presented in this gallery consist of the enameled and luster inscribed vessels of the 10th to 13th centuries. The inscriptions are generally of subjects like expressions, good prayers, and poems of Nezamy and Ferdosy. Patterns are mainly human figures in various ceremonies and animals especially birds.
Lapis-Lazuli Galleries:
Following destruction imposed on the centers of glass and pottery making in Iran, Safavid king, Shah Abbas I, initiated the revival of these two industries and enhanced it with Chinese and Italian artists helps. The objects of these two galleries are evidence for changes in the form and decorations of glassware and pottery artifacts using lapis-lazuli stones. Vases, sprinklers, and ewers in lapis lazuli and light orange colors are Shiraz and Esfahan products.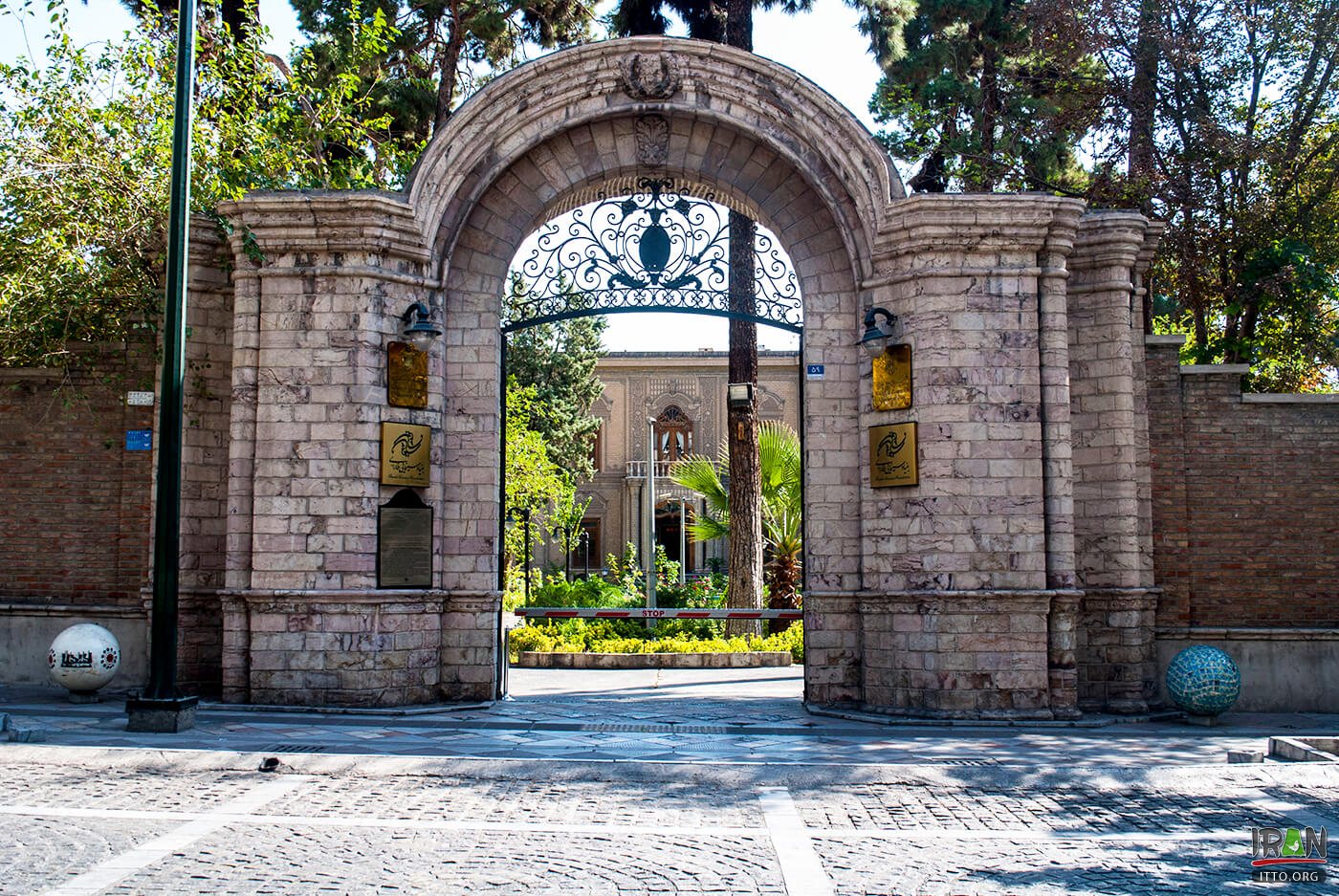 This impressive house is located in a 7000 m garden which is astoundingly decorated with intricate wooden windows and fifty kinds of brickwork. Inspired by the European and Russian architecture, this brilliant complex still boosts the art of Iranian architect by breathtaking stuccoes, mirror works, and delicate carvings.
There is a gift shop on the ground floor where you can buy books, DVDs, and other souvenirs. Also, you can take a lovely walk in the museum garden and yard. Although the museum is located in the middle of bustling Tehran, you will feel peaceful and relaxed in the museum area. You can take photos and record videos in the museum.