Also known as:
Kordasht Bath
,
Kordasht Hammam
,
Kordasht Bathhouse
Kordasht historical Bath is located in a village of the same name near Jolfa County in northwest Iran. The bath dates back to Safavid times, and its water is supplied from the Aras River which runs along border with Azerbaijan Republic.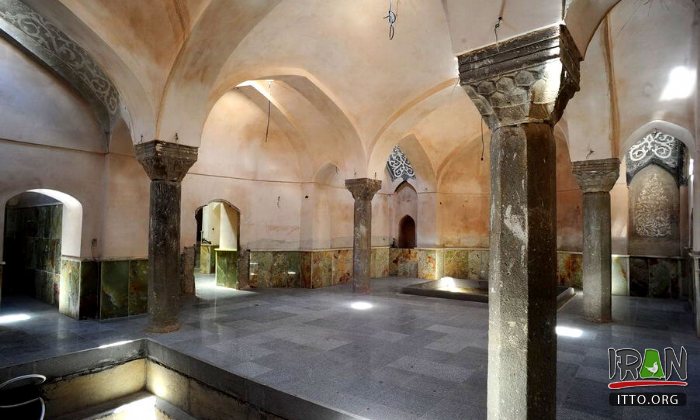 This ancient bath of Kordasht (Kalibar) is located in the village of Kordasht in the central section of Jolfa (Julfa) in East Azerbaijan province, and from the point of view of internal arrangement and wall paintings is spectacular. Water for the bath is obtained from the Aras River and after being warmed finds its way to different pools within the bath. This bath is over two centuries old and is under ground level.

Kordasht Bath is considered one of the largest and most beautiful baths surviving in Iran. Entrance to this bath is possible through a staircase leading to the first vestibule, then you will enter the valley which has an octagonal structure and is connected to the ceiling with eight columns.

This bath had been primarily used by Safavi royal family; however, it has been opened for public use later on. This historical monument consists of various sections such as a "Bineh", a "Sarbineh", a vestibule, a spring house, and a greenhouse.

The Bath has some impressive interior carvings, adding to its charm. From the point of view of internal arrangement and wall paintings it is simply spectacular. Upon entrance a first set of stairs lead to an initial sitting area. A further eight stairs brings you to an octagonal shaped changing room. The changing room has a domed roof which is supported by eight decorated columns.

A hallway connects the changing room to another octagonal shaped room that contains the main pool. To its left are two toilets and a smaller pool. This room which is supported by four columns has a waterway that directs hot water into the pool. The room receives natural light via intentional ducts scattered throughout the ceiling.
Fullscreen Map